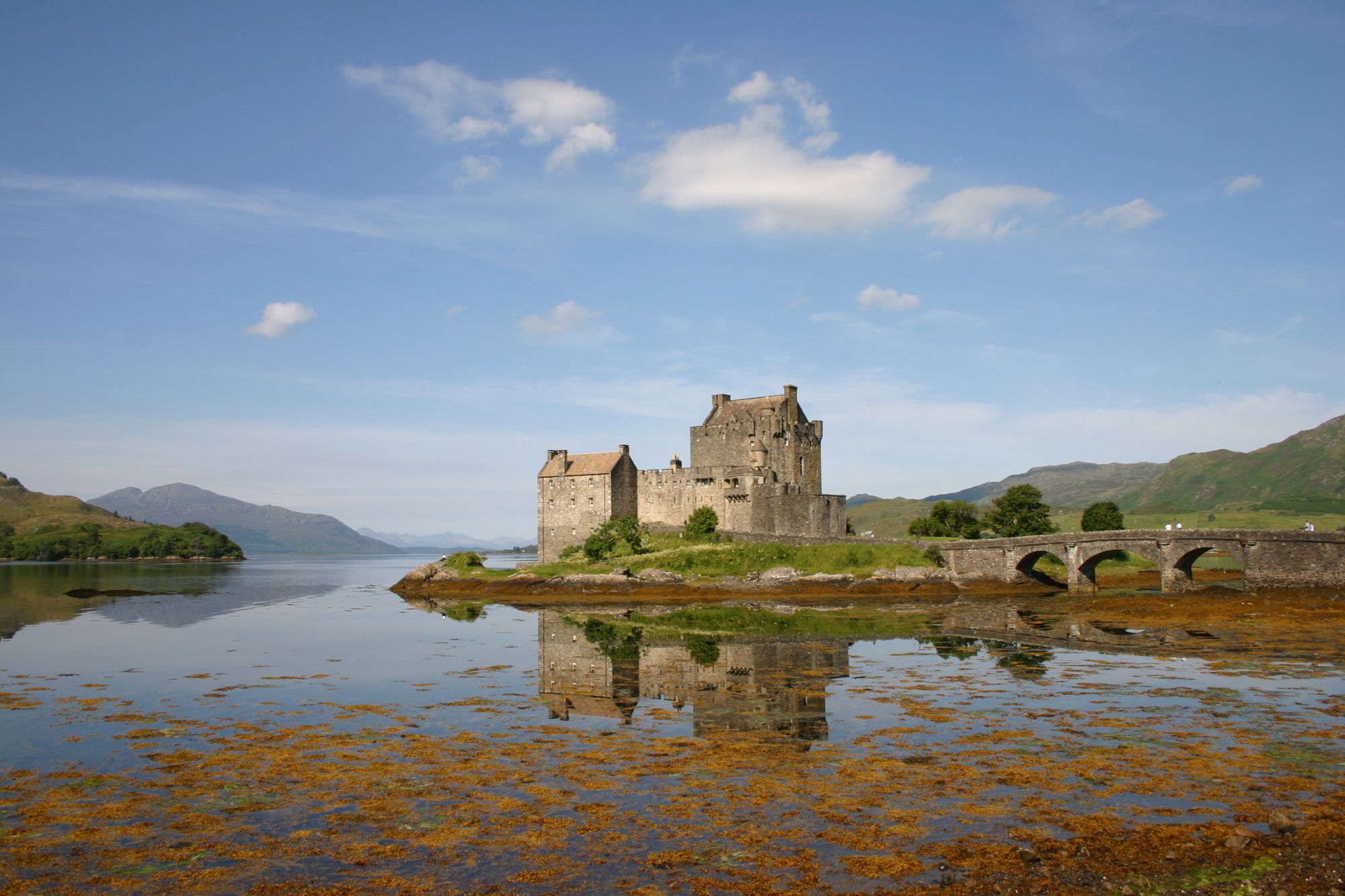 Scotland
Accommodation in Scotland can rank with the best, with some of the most comfortable and welcoming country house and resort hotels in the UK, and a range of boutique hotels and B&Bs that make the most of Scottish hospitality and produce. Moreover, if you're self-catering in Scotland or fancy a spot of glamping you can find yourself somewhere that's as wild and remote as anywhere in the UK.
And why wouldn't you visit?  There are the familiar images of rugged castles, brooding mountains and swishing kilts, but there's so much more to Scotland than this. The country is home to more than 800 islands, has more than 10 percent of Europe's coastline and has been voted the world's number one mountain biking destination. It's home to seven thrilling cities, of which Glasgow and Edinburgh can hold their own with any in Europe when it comes to sights, architecture and nightlife, and also boasts some of the most remote and wild landscapes in Europe. And that is just the point: Scotland is diverse, deep, and very hard to pin down – as much Trainspotting as Braveheart, with as many fine dining restaurants selling the freshest seafood as there are chippies and curry houses.
Best Places to Stay in Scotland Holidays – Accommodation and Places to Stay in Scotland I Cool Places
There isn't another part of the UK that's as blessed with bountiful produce as Scotland. The fish and seafood here is second-to-none, and we're not just talking fish and and chips (though that too is pretty good in lots of places), but fabulous scallops, mussels, lobster and more. Scottish beef is justifiably world-famous, and of course there is the game that comes from Scotland's wild regions and country estates – not for nothing is August's 'Glorious 12th' celebrated more in Scotland than anywhere else. All of this is reflected in a wide range of restaurants that vary from basic pubs serving locally-sourced hearty grub to some of the most upscale fine dining establishments in the country, staffed by some of its most talented chefs. Add to this long-standing ethnic influences manifest in the curry houses of Glasgow and the Italian restaurants, delis and gelaterias of Edinburgh, not to mention Scotch whisky and the distilleries that produce it, and you have a destination in which food and drink are very much part of the equation – something that couldn't always be said of Scotland during the days of deep-fried mars bars and chips.
How to squeeze the sights and attractions of Scotland into a paragraph? Well suffice to say could spend a year here and not exhaust all of Scotland's sights, landscapes and activities.  It's perhaps best known – and visited – for the Great Outdoors, and with good reason: arguably there's no better place in the country for skiing and snowboarding in winter, and mountain biking, hiking and climbing in summer – and all year round its beaches are fabulous and there are wildlife and nature spotting opportunities galore. The great thing is you can combine all this activity and nature with urban and cultural pursuits with two of the UK's buzziest, most elegant cities in Glasgow and Edinburgh, and the rest of the country sports country houses, castles, galleries and gardens and more to tempt touring culture vultures. Consider also taking to the whisky trail: many of Scotland's most iconic and beautifully sited distilleries are open to the public, giving not only the chance to taste but also buy whiskies that are rarely available far from their place of origin.
Shopping is great in Scotland, mainly because there are lots of places that specialise in things you don't necessarily come across much in the rest of the country. But it's not all about tartan and tweed. Homegrown Scottish produce – smoked salmon, beef and game, cheese and of course whisky – provides rich pickings, and there are also craft and other industries based on Scotland's natural bounty, like Arran Aromatics. A number of notable outlets focus on purely Scottish items, and the quality is so high, and the choice is so wide, that it's hard to leave without something to remember your trip by.
Scotland's history has perhaps never been the subject of more debate than it is today, with a referendum on independence looming. Only in recent decades has Scottish history seriously been studied. Scotland's story, more than that of most countries, is very much still a work in progress. Even the foundation of Scotland is the subject of fierce controversy, but the most mooted year is 843 when the Picts and Celts either united or the Celts rode roughshod over the Picts, depending on who you listen to. Far more than the Romans – who famously never succeeded in subduing Scotland after over a century of trying – the relationship with England has left the greatest mark. The two countries may still be inexorably linked by 1707's Act of Union, but the preceding centuries saw constant turmoil with the great Scottish heroes of those years, such as William Wallace and Robert the Bruce, still very much celebrated today. The 19th and 20th centuries brought wealth as a driving force in the British Empire, but economic times have been tougher in recent years, especially as the traditionally strong heavy industries have toiled. The restoration of the first Scottish Parliament in 1999 has not, as Westminster hoped, quelled the desire for independence. Far from it. With a popular nationalist government in a strong position at Holyrood Scottish independence is very much on the current agenda.
united kingdom, scotland, places to stay, hotels, B&Bs, cottages, self-catering, glamping, city, countryside at Scotland, Scotland's Coolest Places to Stay – selected by Cool Places