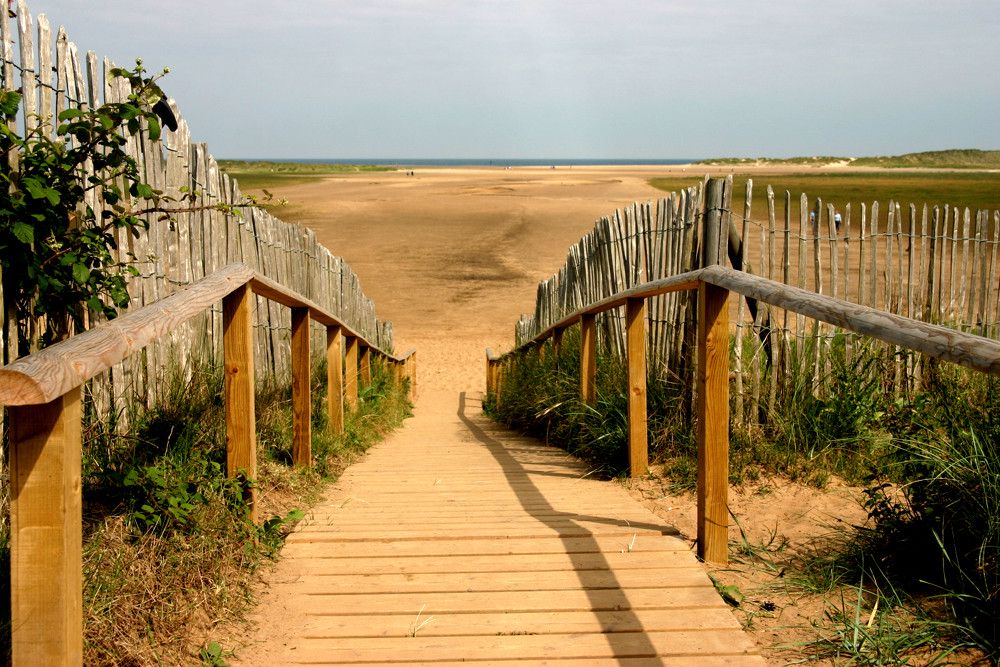 North Norfolk Coast
With every justification, the north Norfolk Coast is one of the most popular tourist destinations in the UK, attracting birders and hikers, campers and beach lovers by the thousand. It's got something for just about everyone, from the quaintest of villages to bucket-and-spade resorts, as well as tracts of pristine coastline where salt and freshwater marshes abut long sandy beaches. In the past couple of decades, it's become better known and somewhat gentrified, with the result that it has acquired some of Norfolk's best places to stay, with a number of fabulous pubs with rooms, boutique hotels, a couple of country house hotels and a host of self-catering holiday cottages serviced by an ever-increasing number of local agencies. Indeed today the little villages that line up along the north Norfolk Coast – Wells-next-the-Sea, Blakeney, Sheringham and Cromer – make most of their living from tourism. It was not always so. Until the 1920s, these were busy little sea ports, whose harbours were crammed with frigates and schooners from all over Europe. Nowadays, pleasure craft, especially sailing boats, rule the local nautical roost, but there are fishing boats too, and many a local restaurant features a catch of the day: Morston is nowadays known for its mussels and Cromer has always been famous for its crabs.
Best Places to Stay in North Norfolk Coast Holidays – Accommodation and Places to Stay on the North Norfolk Coast I Cool Places
Best Places to Stay in North Norfolk Coast
The North Norfolk coast is dotted with rural settlements and small towns, so rustic pubs and restaurants are the most common find when it comes to food and drink. The result is that takeaway food is surprisingly hard to come by, but for the good fish and chip shops in places like Wells or Cromer. Rather, if you want a quick snack, the best option is to visit one of the growing number of cafes or delis in the area selling locally farmed produce. When it comes to those pubs and restaurants, then, the quality is very high, with most specialising in sea food and traditional british cuisine. There's also a great sample of ales on offer and almost every pub will have local beers on tap.
Since the towns and villages along the coast are small and fairly dispersed, there are only a few places where you can really spend more than half and hour browsing amongst shops. While Cromer and Sheringham are the larger towns, they're peppered with cheap 'bucket and spade' shops and it's quieter settlements like Blakeney, Holt and Burnham Market that are now the growing destinations for shopping in the area. These places are upmarket and on the pricey side, but are home to real specialist shops where you'll find high quality goods. There's also an abundance of small art galleries along the coast, where local artists show and sell their work, aiming to capture the beauty of this picturesque coastline.
Most are attracted to North Norfolk for its fabulous coastline, a ragged patchwork of beaches, dunes and salt marshes, where you can enjoy the open spaces with the company of pets or sit quietly amongst the flora and fauna of the many nature reserves. The juxtaposition of these family friendly beaches and quiet nature reserves does not reflect a conflict, on this coastline there is space for everybody and activities for all tastes. The villages that border the seafront are dotted with historic churches, while a short distance inland brings you to a string of stately homes, such as Felbrigg and Holkham Hall. There are a number of museums and galleries in the area, all relatively small, as well as local exhibitions in many of the village halls.
north norfolk coast, blakeney, cromer, holt, wells-next-the-sea, sheringham, norfolk, east, england, uk, guide, destination, travel, planet, uk, hotels, bars, restaurants, places, offers, united kingdom, seaside, countryside at North Norfolk Coast, North Norfolk's Coolest Places to Stay – selected by Cool Places