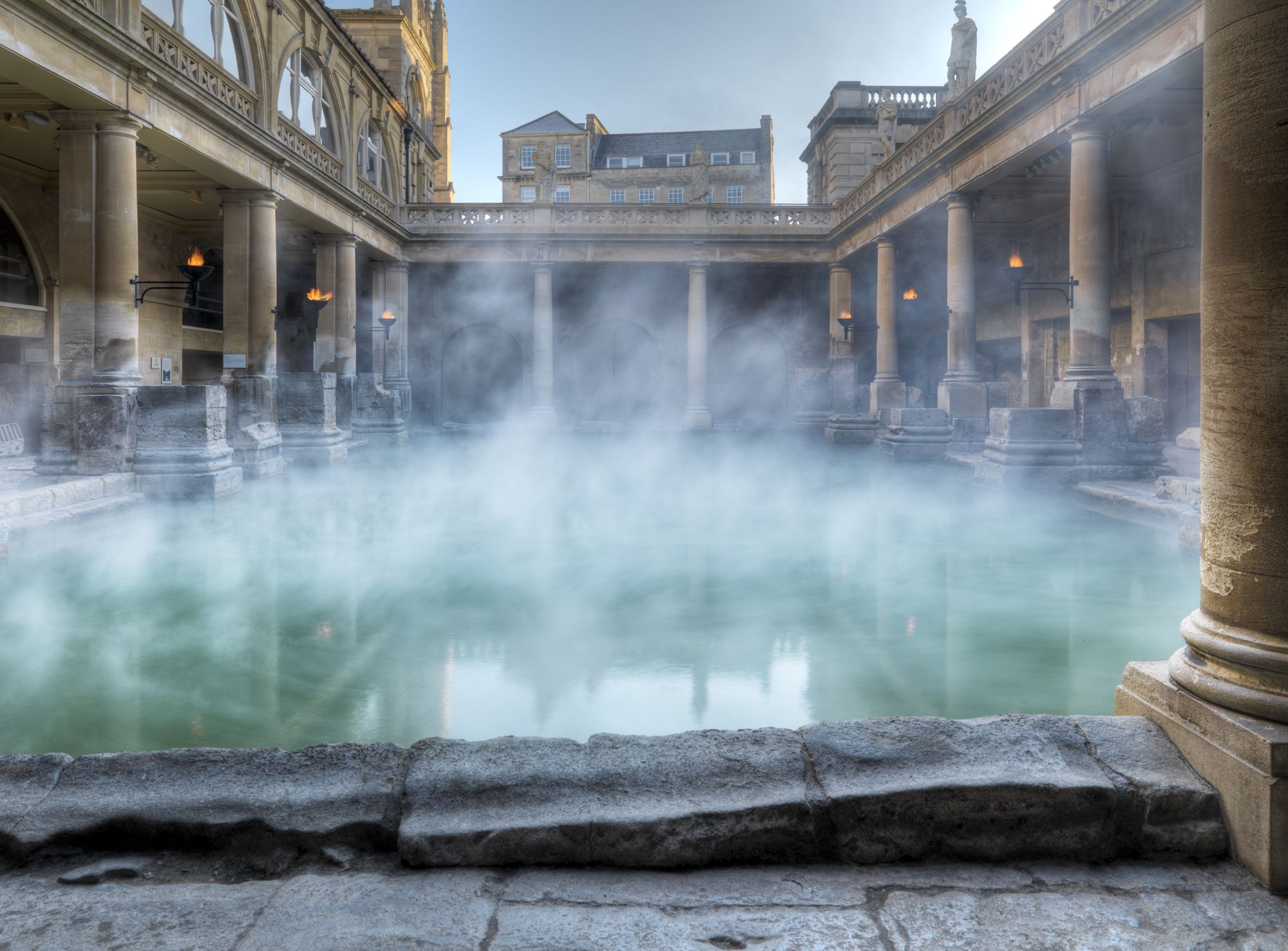 Bath
One-time hangout for English high society, the elegant city of Bath is home to Britain's only natural hot springs. It's these healing waters that put the city on the map, and in part continue to draw visitors today, both to the original Roman Baths and to the state-of-the art Thermae Bath Spa, where they can test its curative claims themselves. The baths, however, form only the centrepiece of what is arguably the most beautiful city in England. Blanketed in soft, honey-coloured stone, it's a grand sweep of Georgian terraces and cobbled streets, packed with museums and galleries, antique shops and markets, the city enjoys a range and variety of restaurants to rival places twice its size, and is the ideal destination for a relaxing weekend away. There are plenty of hotels in Bath, many of them housed in splendorous Regency-era mansions, plus charming B&Bs in Georgian townhouses, several noteworthy boutique hotels, and, for the backpacker on a budget, a few reliable  hostels. Most accommodation is centrally located, too, allowing you the freedom to explore the city on foot.
Best Places to Stay in Bath Holidays – Accommodation and Places to Stay in Bath I Cool Places
Best Places to Stay in Bath
Despite its rich historical heritage, Bath is by no means stuck in the culinary past. While there are innumerable but excellent snug, timber-beamed ale houses serving hearty traditional fare (grab a pie and a pint of Raven's Gold at The Raven), several pubs have gone gastro, with innovative, mouth-watering results; there are also plenty of ethnic options (including a great Japanese restaurant) and an award-winning vegetarian/vegan restaurant, Acorn. Afternoon tea is serious business, and you can do it justice in the opulent surroundings of The Pump Room restaurant, a stone's throw from the famous Roman baths, while being soothed by the delicate tones of the Pump Room Orchestra. No trip to the spa city is complete without a visit to historic Sally Lunns, home of the famous Bath bun, and as dusk descends, Bath's nightspots come alive. If the weather's nice, the real ale connoisseur can enjoy some al fresco pints of Badger on Hall & Woodhouse's super roof-terrace.
A refreshing antidote to the homogenisation of many other city centres, Bath has a singular amount of traditional and boutique shops. The city's compact size and easily navigable streets make exploring Bath's many independent shops a delight. Built in 1863 (though sadly damaged by fire in 1970), the distinctive dome of Bath's bustling Guildhall Market houses a diverse range of local merchants selling the best in local West Country produce. Whether you're after some fresh Brixham crab or simply want to admire the ornate floral mouldings that adorn its arched iron windows, the Guildhall is definitely worth a visit. Amongst Bath's boutique gems, Sassy & Boo caters to vintage-o-philes in search of that one-of-a-kind design. Nearby Milsom Street, Bath's answer to the King's Road, was also proclaimed Britain's Best Fashion Street in the Google Street View Awards 2010. And unsurprisingly for a city with such a rich literary heritage, Bath boasts some fine independent bookshops: much-loved Topping & Company and the wonderfully named Mr. B's Emporium of Reading Delights are a bookworm's paradise; try and visit during the Bath Literary Festival, which runs for ten days in March.
Bath has been designated a UNESCO World Heritage Site for a quarter of a century – and with good reason. Bathed in the distinctive golden hue of Bath Stone, the city boasts some of the finest classical architecture in Europe. Visitors can enjoy a leisurely amble round the city's famous circuitous Circus, en route to the immaculately preserved steaming pools of the city's eponymous Roman treasure. Weary visitors seeking solace from the teeming crowds of Bath's numerous museums (specialising in everything from America, to astronomy, to fashion) can find refuge in peaceful Bath Abbey. The free-to-enter Victoria Art Gallery, just across the historic Pulteney Bidge, houses an impressive collection of Gainsborough's and Sickerts. There are also five theatres in the city, the grandest of which, The Theatre Royal, hosts everything from Shakespeare to puppetry. Somerset is also, of course, Jane Austen country and the author's association with the city run deep, with lots on arguably our greatest female author at the Jane Austen Centre on Gay Street. Otherwise, just loaf about: a simple stroll of the city's quaint cobbled passageways reveals all sorts of beguiling gems.
bath, somerset, south west, england, uk, guide, destination, travel, planet, uk, hotels, bars, restaurants, places, offers, united kingdom, museums, roman baths, antique shops, markets, bath spa, sightseeing, relaxing, cool places, gigs, music, at Bath, Bath's Coolest Places to Stay – selected by Cool Places