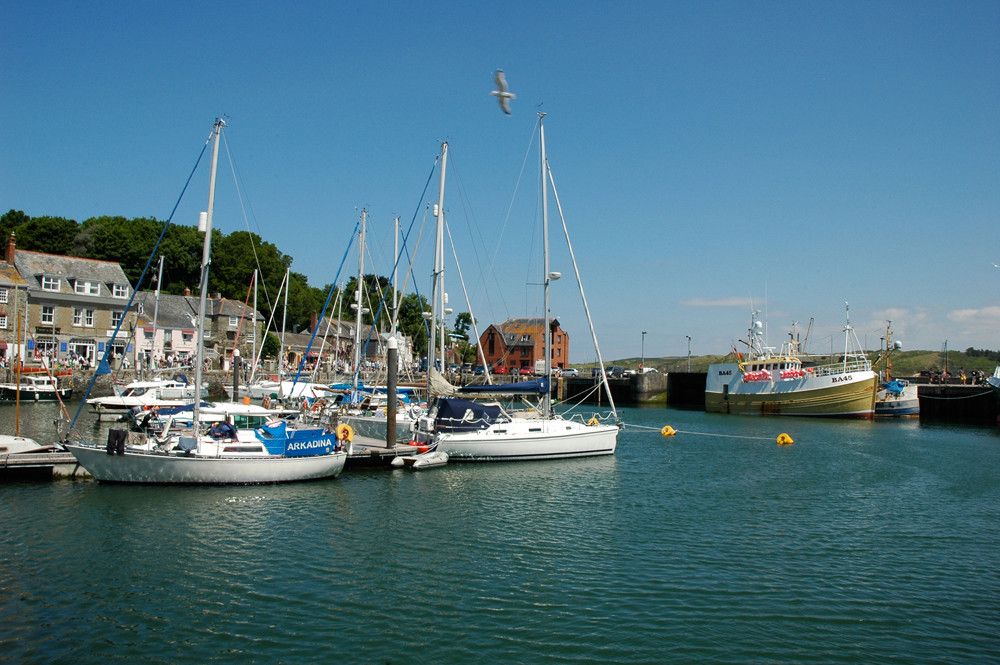 Padstow
The small fishing port of Padstow enjoys a reputation quite out of proportion to its size. Its location is something special, perched on the broad and beautiful Camel Estuary, close to fantastic beaches and beautiful countryside; the village itself is quaint and well-preserved, gathered around a small working harbour. But the real reason for its latter-day popularity is its gastronomic reputation, which has grown exponentially since TV chef Rick Stein opened his acclaimed Seafood Restaurant here back in 1975. Padstow has since become 'Padstein' as Stein has expanded his local empire. But the town and its visitors owe him a huge debt of gratitude, because the town is now by far one of the country's best foodie destinations, with any number of places to sample great local produce. Add to this the fantastic scenery and location, and Padstow is by any standards a truly extraordinary holiday destination. For such a small place it also has an awful lot of good places to stay, with top-notch accommodation clustered around Padstow's small harbour, just off Riverside Road. Above all there is a real mix, from the boutique hotels and restaurants with rooms offered by the Stein chain to some really good self-catering options, either in stylish waterfront apartments or quaint farm cottages, ideal for larger groups or families. Nearby campsites are another choice, good places to relax and enjoy the countryside during the summer months, and perfect for speedy access down to the estuary.
Video tour
Watch our video introduction to Padstow
Best Places to Stay in Padstow Holidays – Accommodation and Places to Stay in Padstow I Cool Places
Best Places to Stay in Padstow
Cornwall's foodie capital, Padstow can attribute the seeds of its gourmet reputation to Rick Stein and his handful of restaurants. But he is no longer the only chef in town making his name from seafood landed on the quayside and fresh local produce plucked from the countryside in view. Nathan Outlaw and Paul Ainsworth are just two more of the town's food heroes, and many other restaurants are gaining nationwide applaud. But you don't have to be a fully-qualified gastronome to appreciate Padstow's food and drink scene. Wine lovers flock to binTwo and Camel Valley Vineyard, the harbour-side pubs and cafés serve fresh Cornish fare with a view, and you can pick up just-landed seafood from a number of fish and chip shops in town. 
The bulk of the top shops in Padstow are delicatessens selling local produce, with Rick Stein's Patisserie always catching the eye of passers by, as well as the Padstow Farm Shop, one of cornwall's most impressive farm outlets. The slopes of the Camel Valley are home to some of the UK's richest vineyards and if you follow the river a few miles inland you can can purchase an alcoholic souvenir of the region as well as enjoying a full-blown wine tour. Beyond food and drink you may also enjoy browsing amongst the art galleries, celebrating local contemporary artists who try to capture the beauty of this pleasant town where river meets sea.
This attractive town has lots to offer, from visiting buildings and monuments like Prideaux Place and St Enodoc's Church, to outdoor activities such as fishing, wakeboarding or waterskiing. Padstow really is a diverse holiday destination and whether you planning on enjoying a thoroughly active holiday, or simply want to kick back and relax in the quiet charm of the harbour, you'll find this waterside town pretty ideal. A couple of good walking routes pass through the town and are worth picking up if you want to take in panoramic views of the surrounding landscape. Also of note is Padstow's famous Obby Os, a bizarre May Day festival steeped in tradition and thought to be of Celtic origins.
padstow, cornwall, south west, england, north cornwall, uk, guide, destination, travel, planet, uk, hotels, bars, restaurants, places, offers, united kingdom, cool places, rick stein, fish and chips, pubs, walking, swimming, seaside, cycling, coast, boutique hotels, pubs with rooms, at Padstow, Padstow's Coolest Places to Stay – selected by Cool Places