John O'Groats Luxury Lodges and Apartments Together Travel
01625 416 430 John O'Groats, Wick, Caithness KW1 4YR
Apartments/Lodges Sleeping 2–8


Chic Boutique Accommodation
Luxury apartments and family lodges at an iconic and historic Scottish location
The little seafront village of John O'Groats has an importance way beyond its size. Mainland Britain's most northerly point is famous the world over as a point of pilgrimage and adventure, set on a stunning coast, with dramatic cliffs, sea stacks, sandy beaches and wild scenery to all sides. You're going to want accommodation to match, and at the old inn – once the original John O'Groats Hotel, built in 1875 – there is now a fabulous array of options following a complete overhaul of facilities.
The inn itself has an eye-catching Scandinavian-style extension, with the spaces converted into individually designed, self-catering apartments with one, two or four bedrooms. These are stunning, spacious places to stay, with high-quality facilities, superior kitchens and a keen sense of style. Most have extraordinary coastal views, and range from one-bed studios to a truly huge apartment with four en-suite bedrooms. If you want a bit of quirk, then the octagonal penthouse is the one for you, a stupendous one-bedroom apartment on two floors which comes with a free-standing, copper, roll-top bath and 180-degree views from the windows.
There have always been rooms at the inn – though never so flash as now – but a brand new venture at the site has also added over twenty self-catering lodges, set on the landward side of the inn and many with their own extensive sea views. The centrally heated lodges have three handsome bedrooms and large, open decks, while huge glass frontages mean plenty of natural light, terrific views and the ability to move indoors or out as the mood (or weather) takes you. Again, these are sharp, chic living spaces and are really well-equipped, whether you're recovering after adventurous days out or settling in for a home-cooked meal. Kids are well provided for too – depending on the lodge, there are games consoles and smart TVs with streaming options – and if the weather tuns, you can hunker down in front of the wood-burner.
Just getting here is one of the UK's best adventures, but John O'Groats makes a great base in any case for some serious coastal Highland exploration, whether you're following the North Coast 500 or just pootling from white-sand beach to dramatic viewpoint. There's a cafe a short walk from the site, a children's playground and some little shops in the village, and beyond that all the nature and wildlife you could possibly want, from whale-watching to puffin-spotting.

Details
Facilities
Our John O'Groats lodges and apartments are located in a tiny hamlet set amongst a stunning and extreme landscape that combines awe-inspiring coastal stacks, dramatic cliffs, forests and white sandy beaches.
A short drive along the scenic coast from mainland Britain's most northerly point; Dunnet Head, the sea-front village of John O'Groats sits at the very tip of Scotland, offering welcome relief and respite for those embarking on the iconic End to End feat of endurance, starting nearly 900 miles away. John O'Groats is also a preferred accommodation partner of those undertaking the unforgettable North Coast 500 route, providing outstanding self-catering stays for those looking to break up their journey. Our luxury John O'Groats accommodation is definitely the spot to splash out on during your North Coast 500 adventure, with our unforgettable sea-view lodges and contemporary interior design.
Tucked away in an area of outstanding beauty and wild Scottish landscapes, a choice of great accommodation options await you. Even though John O'Groats offers luxury, self-catering stays and is not a hotel, we strive to provide the same high standards to our guests, offering 24/7 accessibility to our friendly and professional local team, supported by our dedicated central concierge. The 'Inn' building with our colourful tofts providing self-catering accommodation, was once the original John O'Groats Hotel and still stands proudly against the backdrop of the spectacular Pentland firth.
Nearby
Caithness Seacoast Ltd, exhilarating boat trips around the fascinating East Caithness coastline.

Duncansby Stacks & Sea Cliffs, the walk starts at the John O'Groats harbour, following a path along the foreshore looking out at the seals, elder ducks with their chicks, or if you are extremely lucky a killer whale.

Wick Golf Club, the oldest established Golf Club in the highlands.

Orkney Day Tours, just a 40-minute crossing to Orkney, take in the spectacular Pentland Firth on the crossing then enjoy the history and iconic tourist spots on the famous Isle.
Open
Available all year.

The Owner Says
Luxurious Glass-Fronted Lodges And Contemporary Inn Apartments On The Highland Coastline.
Location
Contact Website 01625 416 430 John O'Groats Luxury Lodges and Apartments, John O'Groats, Wick, Caithness KW1 4YR
List Your Property
Do you have a Cool Place to stay you'd like us to know about?
List my place
Other Cool Places near John O'Groats Luxury Lodges and Apartments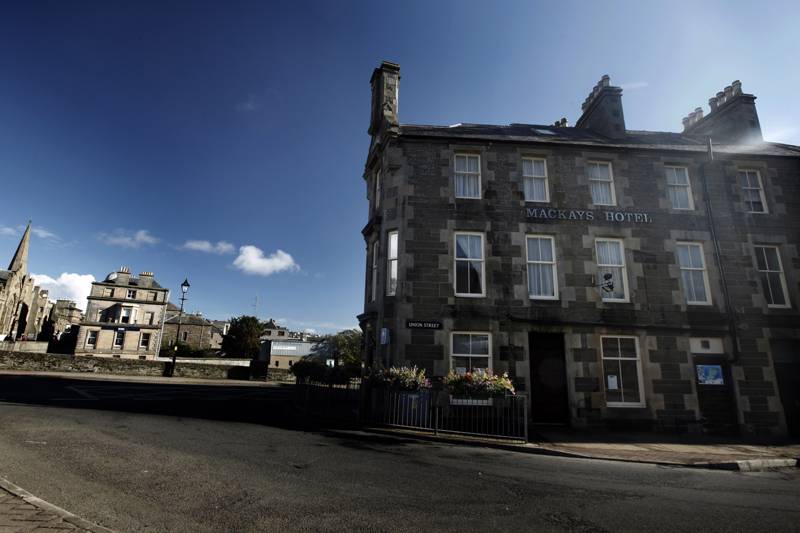 i
Holidays in Wick
Holidays in Caithness
Holidays in Highlands