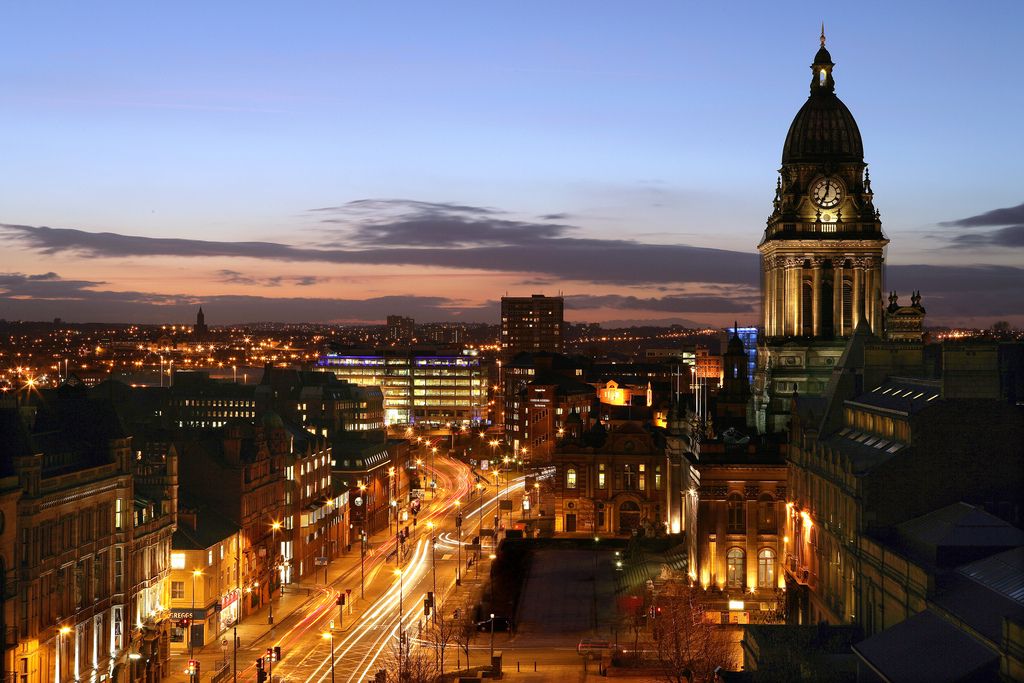 Leeds
It may have once been grim up north, but Yorkshire's buzziest, brightest city is a full-on tourist destination these days, never mind a great place to live and work. As regional business, cultural, shopping and nightlife capital, there's plenty in Leeds to get your teeth into, whether it's splashing the cash in its famous designer arcades, hitting the city's excellent selection of hip restaurants and bars, or exploring its impressive museums, galleries, parks and gardens. There's even a go-ahead city council, and their command – 'live it, love it, walk it' – for once has some resonance with visitors and locals alike, who enjoy the fully charged atmosphere of the compact city centre.
There are lots of good Leeds hotels, and most accommodation is centrally located. The bad news is that there's nothing particularly memorable about the various low-cost inns and lodges, and you can expect a fair amount of noise and nocturnal activity, especially at weekends – fine if you're coming back from a club in the small hours but not so great if you're trying to get the kids to bed. What Leeds does best is boutique hotels, with lots of eye-catching properties offering sharp, contemporary rooms, whether smallish independents or upmarket chains like Malmaison, and several big city-centre hotels with a firm eye on the business market. Prices are surprisingly soft – weekend rates are often lower (when the business trade has dried up), and there are some really good deals at the fancier boutique places, especially if you are able to book in advance.
Best Places to Stay in Leeds Holidays – Accommodation and Places to Stay in Leeds I Cool Places
Best Places to Stay in Leeds
Café culture has hit Leeds in a big way in recent years – even the vagaries of the Yorkshire weather aren't enough to dampen the enthusiasm of the locals for perching at outside tables over a flat white and a cupcake. There are loads of wonderful independent café-bars, delis and lunch counters, while the best restaurants in Leeds echo the dominant contemporary trend for local sourcing, seasonal ingredients and Modern British flair. Some of the premises are outstanding, too – from old riverside warehouses to converted city-centre banks – so there's also often a real sense of occasion to dining out. As for pubs and bars, there's not another Yorkshire city to touch Leeds, whether it's restored Victorian boozers, contemporary ale houses or killer cocktail bars. Some of the newer places are gastro-destinations in their own right, serving great Yorkshire produce, but nearly all show a keen interest in getting the drinks right – especially beer and real ale, with the city's independent brewery, Leeds Brewery, at the forefront.
If you believe certain magazines and websites, Leeds is all about shopping, and it's certainly at the core of the city's business and identity, with new developments seemingly going up every week. The glittering Victorian arcades on Briggate – temples to designer labels and high-end brands – get most of the accolades, but there's a whole lot more to shopping in Leeds: Kirkgate Market has few serious rivals in the UK, while from classy Corn Exchange to cobbled back-street there are a great array of quirky, independent stores selling everything from vintage ball gowns to manga comics.
There's a ton of stuff to see and do in Leeds, and the good news is that much of it is free, from the world-class British art on view at the city art gallery to the national arms and armour collection at the stunning Royal Armouries. The city council oversees most of the major collections, and many places have a real emphasis on families and children, whether it's hunting tigers in the City Museum or getting a taste of the old days at Abbey House. For the city's industrial past check out the extraordinary collections at Armley Mills, or go down t'pit at the National Coal Mining Museum. There's a big arts scene, and both Leeds and neighbouring Wakefield make much of local artists Henry Moore and Barbara Hepworth, with special galleries dedicated to each (the Hepworth Wakefield was one of the country's most anticipated gallery openings outside London). Add in lots of green space, parks and gardens – from stately homes to civic parks – and a revitalised waterfront, and Leeds has enough to keep any dedicated sightseer going for ages.
leeds, uk, united kingdom, england, west yorkshire, city, bars, restaurants, museums, galleries, leeds united, leeds hotels, B&B, gastropub, good food, best pubs, boutique hotels, places to eat, places to stay, places to visit at Leeds, Leeds's Coolest Places to Stay – selected by Cool Places