The 25 Boutique B&B
25 Avenue Road Torquay Devon TQ2 5LB
Officially 'The World's Best B&B', who would not want to stay at this ultra-stylish Torquay guesthouse where attention has been paid to every detail?
There are B&Bs, and there are B&Bs. But The 25, run by hospitality gurus Andy and Julian, is like no B&B you have ever stayed in: an adults-only, boutique-style luxury guesthouse that is helping to drag Torquay into the 21st century by pure style. It was recently declared  "Unique B&B of the Year" by the AA, and most recently won the ultimate accolade of 'World's Best B&B' on Tripadvisor!
These accolades are well-deserved. Andy and Julian used to run a country house hotel in North Wales, and their experience and attention to detail shows in everything they do – from the high standard of design throughout, the cleanliness of the rooms and above all the warmth of the welcome and the nothing-is-too-much-trouble attitude they demonstrate to their guests. Breakfast is fabulous – a real award-winning highlight – with everything from kippers to eggs Benedict, and the scrambled eggs come courtesy of a closely guarded family recipe!

There are six rooms in all, each a different size and each styled with a different colour palette. The large Torre suite is decorated with zebra stripes; the mood in the Broadsands room is purple; while the Oddicombe is decorated with a fabulous large mural of an orange gerbera. All the rooms have Netflix, Amazon Echos and ultra-fast wi-fi – and fresh milk for your tea and coffee! – and the four luxury rooms have super-king-size beds (the rest have kings), and all rooms have complimentary iPads and Nespresso machines. Each room has a contemporary en-suite bathroom equipped with posh Elemis toiletries, power showers and fluffy bathrobes and slippers. They don't allow dogs but they do like dog lovers, who will be charmed by their miniature Schnauzer (Patsy), who is occasionally on reception duty.

As for the location, the B&B is situated in a busy area close to Torre Abbey, which is a short – and for Torquay a relatively flat – walk from the seafront and handy for shops, restaurants and public transport. Torquay itself retains much of its faux-Mediterranean charm, and Andy and Julian are big fans of the town and indeed the Torbay area in general. Their enthusiasm is catching, and there's nothing they don't know about the town and its environs.

Gallery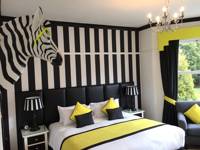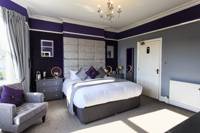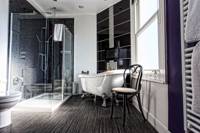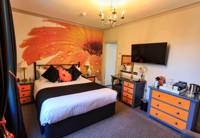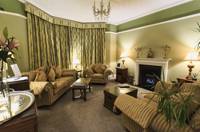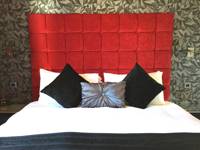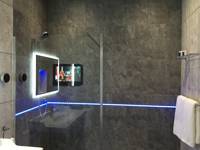 Best local places to eat and drink
There are lots of lovely places to eat within walking distance of The 25. Everything is available from a great curry house to casual pub dining, seafood restaurants selling locally caught fish to a Michelin-star restaurant and everything in between.  Take a look at the 'Food' page on our own website for a link to Andy & Julian's favourites and recommendations. Please note, the best places do get booked up – even mid-week – so it is advisable to book a table if you want to eat at any of the recommendations.