An enormous, homey apartment occupying the entire top floor of an Edwardian family house, with two double bedrooms (one can have twin beds), a bathroom with roll-top tub and a spacious, light living room furnished with lived-in Art Deco antiques. A simple continental breakfast is brought up daily, and facilities include TV and DVD player plus basic cooking facilities (kettle, microwave, fridge). Downstairs, Frances, a professional make-up artist, offers a variety of facials, spa treatments and makeovers (treatments £20–75). The apartment can be shared by up to four people and is always booked on a sole-use basis.
Gallery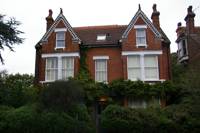 Price
Couple £130; two people (room each) £150; family (2 adults, 2 children under 16) £170; four adults £200. All bookings have sole use.
Location
The Apartment, 3 Tankerton Road Whitstable CT5 2AB
Reviews
Add Your Review
Rated ★★☆☆☆ over 2 reviews
Owners helpful but overpriced
We too have just stayed in The Apartment encouraged by The Guardian review and the beautifully designed website, but agree with most of the former review. The owners, especially Frances were friendly and helpful, especially trying to source non feather bedding for my daughter, but the shabby chic of the apartment is more shabby than chic and it was not the indulgent luxury we had been led to believe. The breakfast was fine for a continental with good fresh fruit but on a cold November morning at £150 a night for two of us a cooked option would have been welcomed. The house is on a busy main road, and it does shake as passing lorries drive past, so compared to other options in the price range locally we were disappointed and thought it pricey and noisy.
Overpriced and lacking attention to detail.
We stayed here for two nights based on the glowing review in The Guardian and overlooked the fact that there were no guest reviews online and no entry on Tripadvisor. This place could be very special indeed and we liked the retro furniture but there is zero attention to detail. The dining table had a scruffy tablecloth, the glasses, plates and cutlery were all dirty with a wine glass having mould in it, the rugs were covered in hairs. There's a flat screen TV precariously perched on an old trunk with a DVD player on the floor and wires everywhere. The entire house also shakes whenever a bus or lorry goes by. Breakfast was little more than four slices of toast, two croissants, some fruit and half opened boxes of cereal. The bedroom wasn't serviced at all when we were there. If this was £60 a night, I could understand but at £130 they need to be doing a lot more. We hardly saw the hosts at all and even when we left we just had to leave the keys on the side and were unable to provide our feedback directly.
Other places to stay near The Apartment