Swallowtail Hill Glamping
Swallowtail Hill Farm, Hobbs Lane, Beckley, East Sussex TN31 6TT











Glamping at Swallowtail Farm is as it good as it gets.
'Idyllic' doesn't do this East Sussex hideaway justice. Nestled within the High Weald Area of Outstanding Natural Beauty, Swallowtail Hill Farm is 40 acres of tranquil wildflower meadow, ancient woodlands, verdant valley, and vibrant wetlands, cultivated and conserved for your off-grid glamping pleasure – the result of owners Sarah and Christopher Broadbent's 20 years of hard graft and an acute understanding of the local environment.  Sustainability is a central tenet of the Swallowtail ethos, which is why they still produce farm-reared meat, fruit, vegetables and copious quantities of timber for building, fuel and fencing. For those with a real interest in conservation, the new Forest School and Wild Woodland Club for kids encourages eco-education and traditional woodcraft methods. Little wonder then that Green Tourism awarded them the coveted gold rating. And TV architect George Clarke recently featured the Swallowtail site as one of his Amazing Spaces. 
There are two cosy timber cabins perfect for a family of four, complete with wood-burning stove, kitchenette and firepit for some bonfire grilling under the stars. Resourceful to the last, the quirky double beds have been hand crafted using local wood and you'll find old apple crates as bedside tables, antique trunks for storage and handmade coffee tables. There are also two whimsical wooden cabins on wheels, the Meadow Keeper's and Woodcutter's Cottages, straight out of the Brothers Grimm, and masterfully crafted by using locally-sourced timber The former is the 'gingerbread cottage' of so many children's story books, sitting in perfect pond-side seclusion between two wildflower meadows, while the latter lies tucked away in a dell at the end of The Dean Wood, an eight-acre chestnut and oak coppiced woodland surrounded by hornbeam, holly, hazel, oak and chestnut hedge lines. A truly special time is assured, and it's a great place for a party  – indeed you can have your your wedding/hen/any-excuse-for-a-countryside-celebration here, or to just explore the local area: you're just five miles from Rye and easily placed to access the South Coast's many other delights, Ticks all boxes really, doesn't it? 
Gallery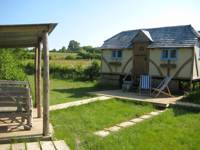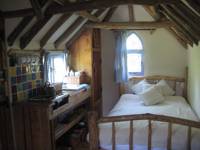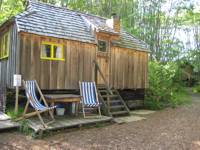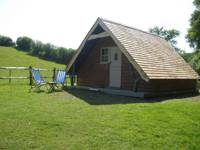 Our favourite spot
Glampers, hen parties, weddings, celebrations – yes. Additional tent camping is permitted if all four glamping units are hired exclusively. A small nominal charge applies.
The local area
Just five miles north lies the historic medieval port town of Rye. Its quaint cobbled streets are aligned with many famous buildings including Ypres Tower (01797 226728) and Lamb House, one-time home of author Henry James. If you've not had your fill of picture-postcard castles, Sissinghurst (01580 710700) and Bodiam are both but a short drive away. Further afield, be sure to visit charming Winchelsea, Rye Harbour Nature Reserve (01797 227784) and the sweeping beach at Camber Sands. Further along the coast lies Hastings Old Town – home of the largest beach-launched fishing fleet in Europe. The iconic black net huts make for a great holiday snap. On a beautiful summer's day, there are fewer settings lovelier than the gorgeous gardens of Great Dixter (01797 252878) – former home to one of the country's finest gardeners, Christopher Lloyd.
Best local places to eat and drink
BBQ and breakfast packs can be pre-ordered and campsite catering is offered. Your thoughtful hosts also provide glampers with a welcome pack of groceries and basic provisions upon arrival. The nearest pub in Beckley is the popular village boozer The Rose & Crown (01797 252161). For a wealth of charming drink and dinner options head to Rye. The New Inn (01797 226 252), Playden Oasts (01797 223 502), and Ypres Castle Inn (01797 223 248) are all suitably olde worlde settings. For some of the south coast's legendary seafood, The Beach Bistro at The Gallivant Hotel (01797 225 057) takes some topping, not least for the views of Camber Sands' iconic dunes.
Why stay with us?
The cabins and cottages each sleep up to 4. Each contain one double bed plus two seating areas that double up as single beds at night. The cabins have a shared outdoor covered dining and fully-equipped kitchen area (complete with utensils, cool box, cutlery, crockery and gas cooker). Both cabins also have a small indoor kitchen with gas hob. Wood burning stove also provided. The cottages have small indoor kitchens with gas hob, cooking kit, log-fired shower and private compost loo (away from the accommodation). The cabins share compost loos and outdoor wood-fired showers. Rechargeable lanterns are also provided. Fires permitted in the firepits provided and all accommodation comes with Bon-Fire kitchen equipment for campfire cooking and BBQ'ing. Nature walks and bushcraft sessions are also available subject to weather and availability.