The Bothy at Racquety Farm
Racquety Farm, Wyecliff, Hay-on-Wye, Herefordshire HR3 5LA
Reconnect with the natural world at this cosy yet elegant house on the banks of the River Wye
One of the many things we love about The Bothy at Racquety Farm in Powys is is its deep-in the-woods location. This magical self-catering spot on the banks of the River Wye feels a world way from urban life, yet it's a mere 10 minute walk over the bridge and across the water to the charming town of Hay-on-Wye, where you will find an array of independent shops, cafes and restaurants, and a vibrant market every Thursday. What's more, it's a literary enthusiast's paradise, with over thirty bookshops.
Back at The Bothy, the smart accommodation sleeps six across three bedrooms (friendly owners Ros and Geoff are happy to set these up as singles or doubles), plus there's space for an extra person or two on the comfy sofa bed in the lounge. All on one-level and partly on stilts, the clever construction allows guests to really feel at one with nature among the trees. Light streams through the large picture windows into the spacious open-plan living area that's complete with a long dining table for sociable dinners and sofas perfectly positioned to make the most of the rather lovely views out to the woodland. Managed for conservation, this is home to an abundance of wildlife; look out for kingfishers, owls herons and many other birds. Animals such as badgers, otters, foxes, hedgehogs are also present; keep a close eye out for these elusive creatures. Sliding doors give direct access to the wide veranda; grab a seat out there and take it all in. With a wall-mounted TV, well-equipped kitchen, shower room and additional toilet, not to mention luxurious modern touches such as underfloor heating, the property is a relaxing getaway in which to unwind. Admirably, the environmental footprint is light (sorry, no dishwasher), so the house has good eco credentials too.
The farm is also home to
camping and glamping
options, a further self-catering property, Racquety Lodge, which sleeps seven (with the option to add a couple of extra beds) and finally simple but comfortable two-room B&B with shared bathroom facilities – making Racquety Farm very flexible if you are visiting in a large party. For those fancying outdoor activities, there are plenty of options ranging from canoeing (family members Aubrey and Clare own a local company and can also organise bushcraft courses), wild swimming, horse-riding, and game or coarse fishing at on-site Wyecliff Fishery. In the mood for a scenic stroll? Walkers are well-catered for too: the cottage is adjacent to the Wye Valley Walk and close to Offa's Dyke Path. All in all, a wonderful place for a family or groups of friends to spend some time and an excellent base from which to explore Mid-Wales.
Gallery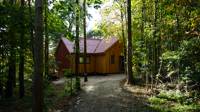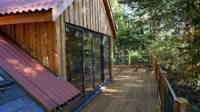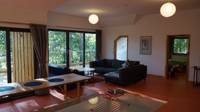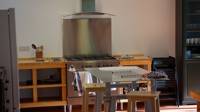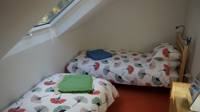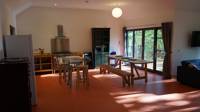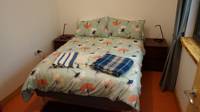 The Owner Says
Racquety Farm is in one of the nicest parts of Britain you could hope to visit! The countryside is beautiful and the wildlife is still abundant in this timelessly lovely part of the world. We have the beautiful River Wye, hills covered with ancient woodland and mountains and moorland where you can walk for miles into the breathtaking views. There is history, unique culture, good home grown food and independent shops and restaurants that provide the best we have to offer from the Welsh Border Country.
Our favourite spot
The Bothy is in woodland perched high on a bank above the River Wye. Being in The Bothy is like living in the trees. There is a sense of peace about this location that touches everyone who stays there. The forest is all around you yet there are glimpses of the river just below you and paths that will take you onto our beautiful river bank just a few yards away.
The property is modelled on a traditional 'bothy' providing practical living space, but this one has more than a touch of un-ostentatious luxury. It is warm and cosy, yet full of light, quiet (just right for a spot of meditation) yet only 10 minutes walk from the centre of Hay-on-Wye.
The local area
The mountains, the woodland, the friendly, genuine people, the places to explore and the unique nature of Hay-on-Wye
Best local places to eat and drink
Highly recommend are St Johns Place (bistro/restaurant), the tapas bar called Tomatitos and all the pubs do a good Sunday Lunch.
Why stay with us?
Our property is managed for conservation of wildlife because we are so lucky to have Otters, Dormice, a huge number of wild birds and wildfowl, as well as other animals like stoats, badgers, hares.... and much, much more. We do ask that visitors are sensitive to the natural environment and help us take care of the woodland habitat by behaving responsibly and following guidelines left for you to read in The Bothy.
Places to eat & drink nearby
Other places to stay near The Bothy at Racquety Farm