The North Wing at Combermere Abbey
01948 871 662 Combermere Abbey, Nantwich, Cheshire SY13 4AJ
2 En-Suite Guest Rooms

Luxury B&B
Elegant rooms and attentive service in a lakeside stately home on a vast Cheshire country estate
The North Wing at Combermere Abbey is as special as it sounds. The two rooms here are often reserved for guests who have married in the elegant surroundings of this 900 year-old former monastery and its grounds. Their arched windows look out over Combermere itself, a vast lake amongst the estate's thousand acres on the Cheshire-Shropshire border. And when they are not booked out by newly-weds, these romantic rooms are available for the rest of us to enjoy: the perfect place for a special occasion getaway if you feel like being pampered.
What's on offer here is labelled as bed and breakfast but it's actually rather more than that: bed and butler service – the North Wing's house manager will greet your arrival with tea and cake, perhaps taken in one of the two beautifully-furnished sitting rooms, then show you to your room. Book Salamanca for the most luxurious of the pair. Sumptuously furnished and decorated in silver, cream and duck egg blue, it's light and airy with a tester bed that suits the grandeur of the place. Its bathroom has a free-standing marble bath, walk-in shower and twin sinks for couples. The Bhurtpore room, meanwhile, shares the lake views but offers a warmer feel with wood panelling and red hues.
It hardly seems necessary to mention that these rooms are adults only. Recently renovated to a high standard, they have been furnished and finished by interior designer Nina Cambell and it shows from every angle. Paintings, vintage furniture, exposed beams and lancet windows speak of this site's long history. While The North Wing is yours to enjoy, the other wings remain a family home; passed down through four generations from Sir Kenneth Crossley who bought it in 1919.
Elsewhere within the estate, there are 10 self-catering cottages, one in the estate's Gothic gatehouse at the top of its long drive. You'll share access to the grounds with the guests staying in these, but otherwise it's private with woodlands, parkland and the shores of the lake to discover in peaceful seclusion. Great places to eat nearby include The Combermere Arms, Docket No.33, The Swan at Marbury and Wild Shropshire. There's little point in explaining the lie of the land any further as it's unlikely you'll want to venture far from here and, if you do, the house manager is on call to answer any questions and tend to every need.
Details
Facilities
A private car park and front door opens on to an elegant hallway, leaning to the shared dining room and sitting room decorated combining heirloom and contemporary interiors. A room to enjoy your delicious locally sourced breakfast, or just relax with a glass of wine. The original staircase takes you to the first floor where you will find our two fabulous bedrooms - The Salamanca and The Bhurtpore and a further study to relax in.




The Salamanca, furnished with a super king size, antique silvered tester bed and decorated in tranquil shades of pale blue and silver, is completed by comfortable seating, flat screen television and full length mirror. The "his and hers" en suite bathroom features a central marble-clad bath, with spectacular views over the mere, full shower, toilet and not one, but two basins!




The Bhurtpore can be both a twin and super king double bedroom, interchangeable based on your requirements. bedside tables, wardrobe, designer armchair with flat screen television and fireplace complete the space. The cleverly designed en suite shower room comprises of a full shower with toilet, single basin and marble topped vanity unit, highlighting the stunning views across the mere.
Suitable For
The North Wing B&B is an adult only property, and pets are not permitted. 
Nearby
The North Wing at Combermere Abbey sits on the border of Cheshire & Shropshire, with the quaint market towns of Nantwich and Whitchurch being close to hand, with only being a short drive from Shrewsbury and Chester. The estate at Combermere Abbey features acres of rolling parklands and woodlands which you are more than welcome to enjoy during your stay.




You also have the great bonus to walk to our neighbours, Three Wrens Gin and The Old Piggery Cafe, which are situated on the periphery of the estate at Park View Business Centre.
Food & Drink
We will be more than happy to share local recommendations of local pubs and restaurants for you to enjoy during your stay with us. 
Open
Open all year.
Pricing
From £160 per night.
The Owner Says
You will be treated to an unforgettable experience when staying in our North Wing B&B, part of the Abbey itself. it is a stylish oasis where guests can unwind and enjoy its historic landscape and mere in peace and quiet. Completely renovated in 2016, staying in the award-winning North Wing will envelope you in its history and the stylish interiors by Nina Campbell. Guests are treated to excellent service and attention with nothing left to chance. 
Location
Contact Website 01948 871 662 The North Wing at Combermere Abbey, Combermere Abbey, Nantwich, Cheshire SY13 4AJ
Getting There
From Nantwich take the A530/Shrewbridge Road towards Whitchurch. After about seven miles, the entrance to the Combermere Abbey will be on your right.
List Your Property
Do you have a Cool Place to stay you'd like us to know about?
List my place
Other Cool Places near The North Wing at Combermere Abbey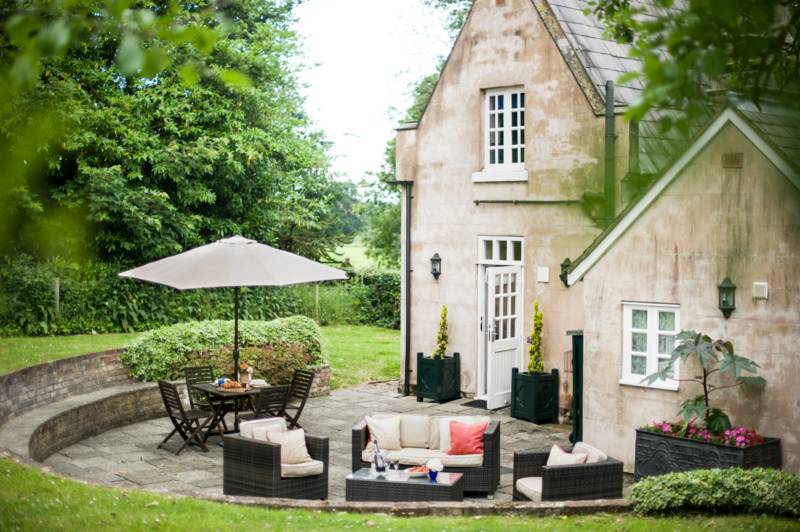 i
Holidays in Cheshire
Holidays in North West England
i
Holidays in Whitchurch
Holidays in Shropshire
Holidays in West Midlands