Romantic, lakeside glamping site in Cheshire on the edge of Delemere Forest.
Eight miles east of Chester, Lloyds Meadow is a fabulous lakeside getaway – more natural wilderness than meadow if we're honest, with lakes, rushes, alder trees and ferns that make a wonderfull peaceful secluded spot to indulge in a bit of adults-only glamping. Run by amiable host Sarah Stone and her family, children and pets are not permitted, and the five-metre bell tents are each kitted out for couples, with the result that there is ample room inside. There are real beds and high quality duvets, and small details abound – a copy of The Birdwatcher's Pocket Guide helps you make the most of the waterside wildlife, and solar lanterns have been hung in the trees to create an enchanting evening ambience. All in all it's a glamping retreat that is very much designed with comfort in mind. It's also just a short stroll to the plush washroom facilities – exclusively for the use of glampers and newly installed in 2019.
The lake itself is one of four on the nine-acre Lloyds Meadow site, which doubles as a coarse fishery, stocked with roach, rudd, bream and more. Sarah can help rent you fishing tackle and arrange a license if you're interested. Beyond the boundaries of your glamping glade, it's just a mile to Delemere Forest – at almost 2500 acres, the largest stretch of woodland in the country, webbed with footpaths and car-free cycleways, and with a nearby Go Ape! centre in case you'e feeling energetic. You can bring your own bike, or hire one locally from Tracs, outside the Linmere Lodge Visitor Centre (also just a mile from the site). It's also just a five-minute walk from the site to Mouldsworth Station, where hourly trains make the 10-minute journey into Chester, which offers endless historic curiosities, from the magnificent cathedral to the town hall, city walls (a two-mile circumference walk) and the famous clock above the east gate. The streets have a real old-fashioned charm too, with modern day shops occupying ancient Jacobean-style, often timbered buildings.
In short Lloyds Meadow is a perfect blend of town and country, with plenty of bucolic charm of its own, not to mention plenty of home comforts, but also not far from the more cosmopolitan offerings of nearby Chester. Very much glamping for city softies!
Our Coronavirus Booking Guarantee
Book with complete confidence at Lloyds Meadow with the Cool Places Coronavirus Booking Guarantee. We guarantee the following clear policy for your booking:
A low deposit of 30% to secure your booking
Balance due 30 days before your holiday
Complete flexibility to move bookings up to the end of 2021 in the event of Coronavirus restrictions
Due to the flexibility provided we are unable to offer refunds
This guarantee supersedes any other policies
The Owner Says
We are situated in an ideal spot to explore Chester and the surrounding area, set in 10 spacious acres with 4 lakes. The setting is so peaceful and beautiful. We aim to give our glampers a really luxurious experience: all our Deluxe 5 meter Bell tents have built-in ground sheets and are carpeted with recycled cotton Chindi rugs ethically sourced from India.
We love a good night's sleep so provide superior, award-winning mattresses and high quality 12 tog feather & down duvets for extra snuggly nights. Off-grid fairy lights and solar lamps help to create an ambient, relaxing atmosphere during the evening, but please remember to bring a torch for late night visits to the bathroom.
Just a short walk from your Bell Tent will be brand new for 2019 toilets and a hot shower. Alternatively you can use the toilets by the lake which may be closer to your bell tent.
Lloyds Meadow is a couples retreat. As an adult only site we preserve the tranquility of our lakes and countryside location. Expect to see Buzzards soaring high above you, hear the call of many birds including the Herons, Kingfishers , Swallows, House Martins and all the usual suspects including some very cheeky Robins. If you like exploring there is so much to do locally you can stay for a week and not run out of things to do, whether you want to kick back relax and enjoy nature or be more active.
What's special about our place?
Glamping only. Dogs and children under the age of 16 are not permitted.
What's special about our area?
Lloyd's Meadow Glamping has a quiet and beautiful countryside location of its own – walk to Delamere Forest, get high in the trees at Go Ape Delamere (10-minute drive; 01603 895500) or park at Linmere Lodge Visitor Centre (10-minute drive) and walk the circular route around Blakemere Moss or to the view point at the top of Old Pale Hill. But the glamping site is also a 5-minute stroll from Mouldsworth Railway Station, from where its less than a fiver (and less than 15 minutes) to the walled city of Chester. Visit the city's famous Romanesque cathedral (01244 324756) or walk all the way around the walls, stopping on top of the East Gate for a photo beneath the famous clock. The whole town has a wonderfully ye olde quality, with modern shops – Zara, Waterstones, Debenhams and the like – housed inside original Tudor buildings, many across two stories with outer walkways around the second tier. Buskers are usually found around the cross and there is a tourist information centre (01244 405340) opposite the cathedral. If you're around at the right time of year you can also watch the races or polo at Chester Racecourse (01244 304600). Finally, it's a 20-minute drive to renowned Chester Zoo (01244 380280), respected as the most advanced zoo in the UK and with a fantastic array of animals and habitats. It's one of the most popular attractions in the whole of England and has enough (in fact, too much) to fill an entire day.
Best local places to eat and drink?
It takes less than 5 minutes to walk to the nearest pub, a former 19th-century coaching inn with plenty of character. The Goshawk (01928 740900) serves food from midday–9pm and the outdoor area has recently been renovated. Sarah recommends the fish and chips. A short drive away, the Morris Dancer (01829 701680) in Kelsall is great for relaxing drinks and delicious food too. If you're in Chester for the day, Watergates (01244 320515) is a very atmospheric pub down in an old crypt, though the food is standard Greene King pub fare, while The Botanist (01244 408100), down a narrow alley does good sharing plates, very fancy cocktails and is generally a pretty hip place to hang out. Ristorante Sergio (01244 314663), just next to the cathedral, is also good for affordable Italian-made pizzas. For a quick coffee or a light bite, try The Jaunty Goat (01244 421492).
Why stay with us?
Bell tents feature carpets and cotton Chindi rugs, a double bed with a 12-tog feather and down duvet (all linen and towels provided), wicker storage baskets, bed-side tables, fairy lights, solar lamps and chairs. Just a short walk from your Bell Tent you will find brand new toilets and a hot shower (bring a torch for late night trips). You are welcome to bring your own cooking equipment or you can hire a cooking pack from Lloyds Meadow for the duration of your stay for a small fee. The pack includes gas stove, pans, kettle, crockery and cutlery. Locally sourced breakfast packs and BBQ packs are also available. The site is very spacious set within the grounds of 10 acres of land with 4 lakes. Fishing can be arranged with tuition if required, equipment can be hired and rod licences purchased.
Accommodation
6 very comfortably furnished bell tents, each sleeping 2 people.
Lake View Luxury Bell Tent
Bell tent
Sleeps 2
6 Available
Double Bed fully furnished luxury 5m Bell Tent is set in a secluded spot near one of our 4 lakes .
---
Check Availability
Price
Bell tents from £70 a night.
Opening Times
Easter to end-September.
Location
Contact Website 01928 740 710 Lloyds Meadow, Lloyds Meadow Glamping, Delamere Road, Mouldsworth, Chester, Cheshire CH3 8BD
Getting There
Lloyds Meadow Glamping is very easy to reach by public transport, with Mouldsworth Railway Station less than a 5-minutes walk away. It's just a 12-minute train journey to Chester (the main station nearby), with a service every hour.
Reviews
Add Your Review
Rated ★★★★★ over 1 reviews
A wonderful stay - perfect for a couple!
First of all - the campsite owners, Sarah and Danny, are extremely welcoming and friendly and made us feel settled straight away. They helped us carry our items to our tent, on a short walk past beautifully kept lakes and gardens surrounded by trees. As we were there particularly for the star-gazing, Sarah had carefully selected a tent which was in the best position for our needs (very high-quality customer service and care!). However, we would have been more than happy in any tent as they were all in beautiful locations dotted around the site. Upon arriving to our tent, we were very pleased with the high quality of the interior: an award-winning mattress (which was very comfortable), thick down-duvet and pillows and very nicely decorated with rugs and throws. Outside the tent, was a reclaimed wooden cable drum table and two chairs, and fantastic views of the lake - we were practically on it - it was beautiful. There were other guests there during our stay, but we did not see them nor hear them - so this is a perfect destination for privacy and relaxation without any interruptions! The toilet block was extremely clean, and only a short stroll from our plot. In the morning, we took a shower in their new unit and we were extremely impressed with the quality! Uninterrupted hot water with good pressure! At night, remember to bring a torch! There are solar lights that decorate the outside of the tents which give such a lovely vibe to the campsite! There are also solar lamps inside the tent provided. Sarah and Danny really went the extra mile when we suddenly experienced a few midges (and had forgotten to take our repellent) and gave us a bottle of spray, along with a fire pit and wood! We were so chuffed with the whole stay - we will definitely be returning again in the future!
Other Cool Places near Lloyds Meadow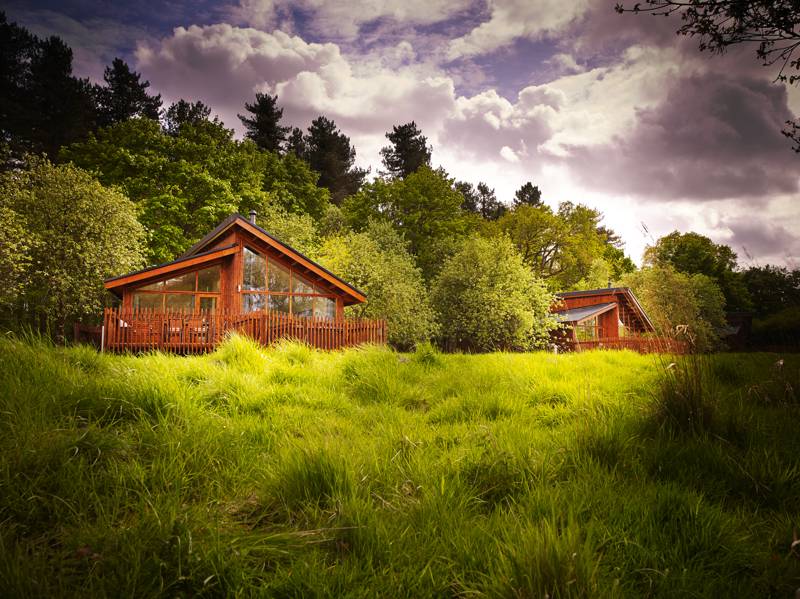 i
Holidays in Cheshire
Holidays in North West England