Mandinam Shepherd's Huts
Llangadog, Carmarthenshire SA19 9LA





Two shepherd's huts and 450 acres of idyllic Welsh farmland, literally in the middle of nowhere.
There's an old saying at Mandinam: "If you're not bothered, then I don't give a damn". No, Marcus, the owner, isn't that apathetic. His Mandinam motto simply means as long as his guests don't have a worry, then neither does he – and so the fun begins, as you're given free reign to do whatever you want within his 450 acres of indefectibly idyllic Welsh farmland, literally in the middle of nowhere.  Either one of Mandinam's idyllic wooden huts offers privacy in droves, as well as a view destined to hurt your eyes if you stare at it too much: gaping-wide, green rolling hills – hills for days on end. Once you snap out of your scenic trance, and step inside your chosen abode, prepare to coo like a giddy child at how dainty and cosy it is. Every inch of both huts are beautifully furnished and equipped, from the mini kitchenette with butler sink to the traditional wood-burning stove, and even come with fresh lavender to aid a peaceful night's slumber. The only things you'll need to concern yourself with is when to light the barbecue and what time to climb into the hot tub, which sits adjacent to the gypsy caravan. Welsh legend has it that 'Mandinam' means 'a place without blemish' or 'untouched holy place', and after one night's stay here, you begin to see why. We're certain you'll be booking your next stay at this isolated rural retreat before you even start packing up to go home.
Gallery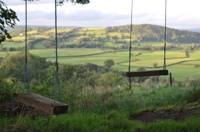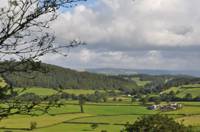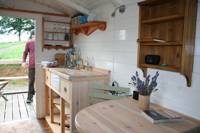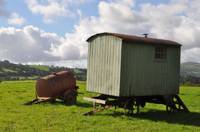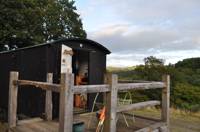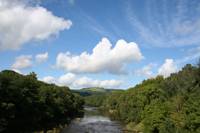 The Owner Says
These 4 wagons are unique in the fact that they are completely secluded and cannot see each other from their own wild and wooded hideaways about Mandinam's four hundred acre farm.  The keyword here is privacy.  You will have all you need for the simple life.
Each hut has a wood burning stove, a gas double burner and grill, table, chairs and a very comfortable bed as well as its own shower and loo hut.  All bedding, crockery and cutlery is provided as well as basic cooking equipment.  And your own personal hot tub completes the magic experience.
The countryside here is ancient, peaceful and beautiful.  The farm is at the edge of the black mountains, so you can walk from your chosen wagon and keep walking for hours.  There is no light pollution so on clear nights the stars are dazzling.  The birdsong in the day is uplifting and red kites are a regular sight.
The gypsy van, shepherds hut, cabin and bluebell wagon all provide a sanctuary from the busy world.  Marcus & Daniella look forward to welcoming you here.
Our favourite spot
Couples – yes. Caravans, campervans, dogs, big groups, young groups – no.
The local area
You're actively encouraged to get lost in the 450 acres of Mandinam with plenty of walking, birdwatching, fishing, owl and bat-spotting opportunities. However, if you venture 12 miles further you'll find the National Botanic Garden of Wales (01558 668768) and a selection of Welsh castles, including Carreg Cennen.
Best local places to eat and drink
For decent pub grub, The Goose & Cuckoo (01550 777359) ticks all the right boxes and is only a short walk into Llangadog village. For some real Carmarthenshire finesse, book a table at Y Polyn (01267 290000) in Capel Dewi, one of Wales' leading restaurants. You can also buy estate-raised burgers and sausages at Mandinam, but you'll need to ask in advance. 
Why stay with us?
BBQs allowed. There are now four huts – the shepherds hut, gypsy van, cabin, and bluebell wagon, each completely secluded. All come with kitchenettes, a twin gas-stove, a wood-burner, double bed with luxurious bedding, kitchenware, BBQ, and separate en suite bathroom. All have private shower hut with loo and gas powered shower. Solar-powered lighting (all except Shepherd's Hut)  with inverter for mobile phone charging, outdoor seating areas and outdoor hot tub.
Things to see & do nearby
Other places to stay near Mandinam Shepherd's Huts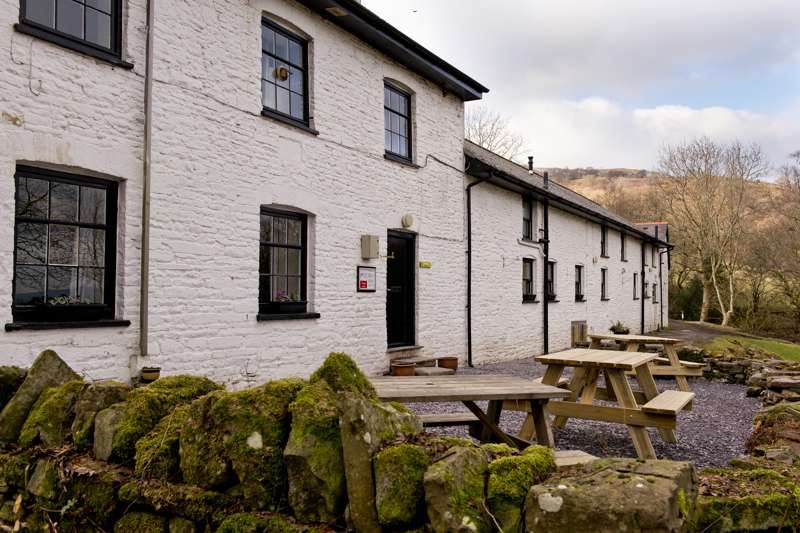 i
Holidays in Powys
Holidays in Mid Wales
Holidays in Wales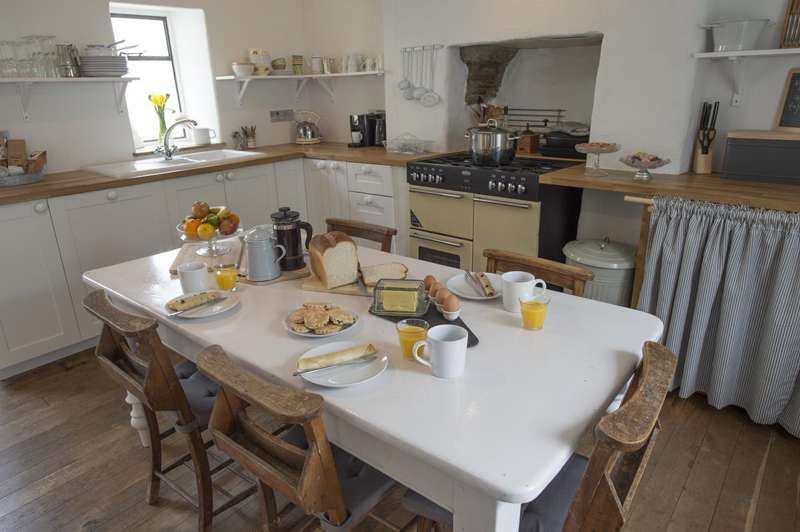 i
Holidays in Carmarthenshire
Holidays in South Wales
Holidays in Wales