Laggan
01889 500 727 Ardnish Peninsula, Scottish Highlands, PH38 4NA
Sleeps 5

Off the Beaten Track
A cosy off-grid cottage in as remote and challenging an environment as you'll find in the UK
Peter is a lucky man. Not so long ago he inherited 3,000 acres or so of the remote Ardnish peninsula on the west coast of Scotland, along with a house (Laggan) from which to enjoy it. Unsurprisingly, it's an amazing place, as remote a spot as you'll find in the British Isles. But as Peter says himself, it's not for everyone. However, its drawbacks may just be the things that make you want to come and visit.

You can only get here by boat, and even then only when the tides allow; it has no electricity; there's a very limited mobile reception and of course no broadband or phone; and you're a half-day's walk from your nearest neighbour. In short, a visit here has to be well planned, and you have to be aware of what you are letting yourself in for (some knowledge of boats and outboards is essential). If this sort of thing appeals to you, however, you can be sure that there are few other such places available for rent in Britain, and almost none that deliver quite so much peace, space and solitude. In fact, when we think of our favourite walking holiday cottages, this would pretty much be at No.1 on our Cool Places list.

It might be remote but it's not primitive by any means. No electricity simply means that you have to use oil lamps for light; it has heating, and there is a fridge, cooker, hot water – heated by a very efficient wood-burning stove – and a radio for listening to the shipping forecast. There are also two comfortable bedrooms plus a box room that together can sleep 5 people. You obviously have to be very organised about provisions – no popping out for a pint of milk here, and it's a three-hour hike to borrow a cup of sugar – but the boat (with outboard) is there for your own private use and it's only a ten-minute journey across to the mainland.
As for the hinterland of Ardnish, it's pretty much yours to discover – almost entirely deserted, and populated mainly by herds of deer, who roam a landscape that's made up of bare hills, patches of forest, several lochs, a fabulous coastline and a pure white sand beach, interspersed with the ruins of a hundred abandoned houses that testify to how hard life once was here. A long day's walking (or just pottering about) here without seeing a soul, before returning to your own cosy cottage (with the romantic glow of paraffin lamps) is sometimes just what the soul needs. Incidentally, if you prefer somewhere you can reach by car/on foot, it's worth knowing that Peter also owns nearby Lower Polnish.
Details
Facilities
Unique is an overused word – but how many holiday houses in the UK have no electricity and can only be reached by boat (or a 3-hour walk)?

Suitable For
Sitting by the window (or outside) with a pair of binoculars watching the world go by.
Nearby
The nearest neighbor is a 3-hour walk away (yes really) so it really is a getting-away-from-it-all holiday. 
Food & Drink
Lochailort Inn does standard pub grub if you need to visit the outside world.
Open
Available June–September, Saturday–Saturday.
Pricing
£950 a week.
The Owner Says
It is essential that you are familiar with small boats, outboards and tides to rent Laggan, as you can only get to the house by private boat. The effort to get here pays massive dividends – and is fully rewarded by a real digital detox holiday – partly due to no electricity or mobile signal!  So for a real holiday, disconnect with the digital world for a week or two and enjoy a slower pace of life with 'surround sound nature' to recharge the batteries.   
Location
Contact Website 01889 500 727 Laggan, Ardnish Peninsula, Scottish Highlands, PH38 4NA
Getting There
The only way to get to the cottage is by car to the coast near Roshven (you'll be given directions), where you will meet the caretaker who will take you across on the boat – a ten-minute journey. The nearest large town is Fort William, which is about an hour's drive away. And it's roughly a two-and-a-half-hour drive from Glasgow to Fort William.

Your exact arrival time is dependent on tides but will normally be after 4pm on a Saturday. You are given instructions where to park beside the road, and will be met by the caretaker, who will help you load up the boat with your luggage (two trips may be required to ferry your party across to Laggan if you have a lot of stuff). The caretaker will then help you unload and transfer everything to a quad bike and trailer for the short journey to the house, where he will explain all the details about the house that you need to know.
List Your Property
Do you have a Cool Place to stay you'd like us to know about?
List my place
Other Cool Places near Laggan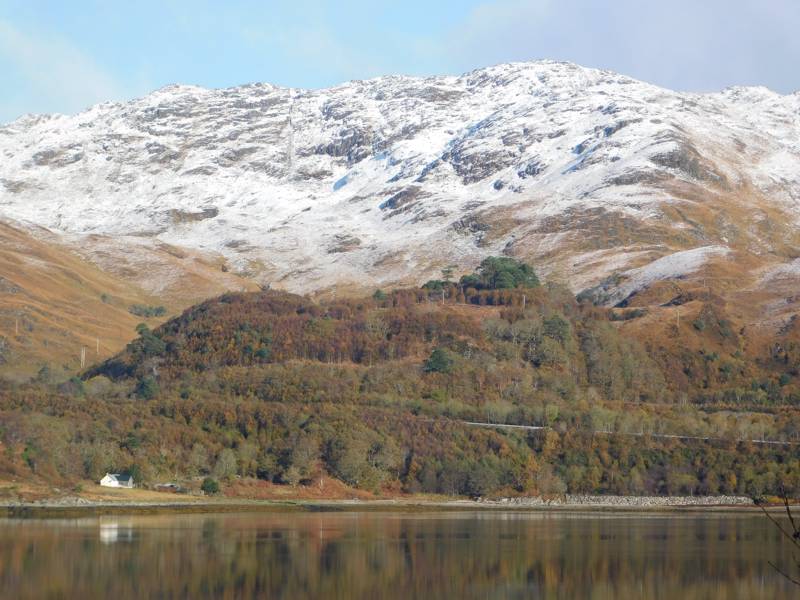 i
Holidays in Argyll & Bute
Holidays in Highlands
Places to eat & drink nearby
Things to see & do nearby