Kimberley's Cottage Guernsey
07911 741 575 La Villiaze Cottage, La Villiaze Lane, St Andrew, Guernsey GY6 8YH
Cottages Sleeping 2-6

Cosy Rural Retreat
Self-catering stays with modern rustic style in the heart of Guernsey
Nowhere is too far from anywhere on Guernsey – but that's especially true of the sweet self-catering accommodation at Kimberley's Cottage. Situated halfway between the island's small airport and St Peter Port, where the ferries from England and France arrive, it's easy to get to and from, no more than two miles from either. And although the little lodge and cottage at Kimberley's have a countryside setting, it's just 10 minutes' walk to the nearest beach and less than that to a great restaurant and bar. But it's not just the location that makes Kimberley's such an alluring Channel Islands place to stay, it's also the accommodation itself.
Choose between a cosy bolthole for two, Mango Lodge, and family-sized Bumblebee Cottage. Each is as charming as the other. Located in the garden of a 16th-century house, they each occupy an old outbuilding that's been renovated to host guests. The style inside is rustic and cosy and owes something to the ski chalets of Austria and Bavaria. with timber-clad walls, faux-fur throws and animal skin rugs. But that doesn't mean it's old-fashioned. Each of the accommodations has a clean and modern bathroom, a Smart TV, wifi and cooking facilities. In Mango Lodge, a kitchenette includes a fridge, coffee machine and hob; in Bumblebee there's a full-sized kitchen.
Mango Lodge is an open-plan studio-style space built out of a renovated goat shed (though you'd never know it), while Bumblebee Cottage offers separate rooms. Downstairs, there's a kitchen, bathroom and living room with a sofa that can be converted into a kingsized bed. Upstairs the lofty bedroom has four good-sized single beds so it can sleep a total of six. The outside space – a deck with a fire pit, a lawn and a barn – is shared and likely to be well used given the pristine night skies here. Guernsey's tourist board is in a constant battle with nearby Jersey over which island has more sun, but frankly, that detail is irrelevant. What matters is that it's one of the warmest and sunniest places in the UK.
Owners Kim and Klaus have renovated these garden boltholes themselves and they provide more than might be expected. Their welcome pack sets you up for a continental-style breakfast on your first day, they'll pick you up from the airport if you need it, and they have a pair of electric bikes you can hire. While you're here, that's the only transport you'll need – unless you want to island-hop or take the ferry to St Malo in France. At 5 kilometres by 10 kilometres top to bottom, Guernsey's historic sites and beautiful beaches are eminently explorable on two wheels or even two feet.
Details
Facilities
KIMBERLEY's COTTAGE GUERNSEY has two units.

The Bumblebee Cottage with fully equipped country kitchen and a family room upstairs in the attic. Downstairs is a country lounge with sliding doors, which can be transformed into a master bedroom with king-size bed. A patio with fire-pit area invites our gusts to cosy evenings around a BBQ.

The Mango Lodge is a unique en- suite apartment with kitchenette and breakfast bar situated in the lower part of the property. The lodge has an exclusive patio with morning sun and chimenea for BBQs.

The infinity lawn with country view provides sun beds and seating space for a relaxing holiday feeling.
Nearby
KIMBERLEY's COTTAGE GUERNSEY is situated in the heart of Guernsey and you find lovely Restaurants and cosy country pubs in walking distance. Also one of Guernsey's most recognized sightseeing spot - The Little Chapel - is only a 10 min walk down the road from our property.
Food & Drink
The Farmhouse Restaurant & Bar is only a 5 min walk from us. It is one of the most booked Hotels for weddings in Guernsey and with its Dip&Dine offer a very popular place in summer month. 
Open
June, July and August. 
Pricing
Mango Lodge from £450 for 3 nights (minimum stay); Bumblebee Cottage from £1250 for 5 nights (minimum stay).
The Owner Says
We are Kim & Klaus and running KIMBERLEY's COTTAGE GUERNSEY together. We have renovated this property ourselves over the last two years. Every room has been designed with our own vision of an elegant rustic country-style and finished in a way we would like to find places on our travels. 
Location
Contact Website 07911 741 575 Kimberley's Cottage Guernsey, La Villiaze Cottage, La Villiaze Lane, St Andrew, Guernsey GY6 8YH
Getting There
Kimberley's Cottage is two miles from St Peter Port where Condor Ferries arrive from Poole or Portsmouth. Head from the town towards the airport on Route de St Andrew until you reach a crossroads with the German Underground Hospital signposted to the left. Take this left on to La Vassalerie. You will find Kimberley's Cottage on this road. Local bus line 71 stops down our lane and is going straight to St Peter Port. The bus is running every 30 min on weekdays.
Reviews
Add Your Review
Rated ★★★★★ over 6 reviews
Self catering perfection with heart and soul
We booked for 5 nights but found ourselves unable to leave and stayed for the duration of our holiday, 14 nights. From the crisp white bedsheets to the thoughtfully laid out outdoor areas to chill, Klaus and Kim have created a wonderfully relaxing place for the whole family. We came with our 3 teenage daughters and all had a great experience and felt so at home. We would recommend this accommodation to both couples and families and would come again in a heartbeat. Thanks guys, it's been tremendous 😊
Lovely accommodation and generous hospitality in a unique setting.
We really enjoyed our stay at Mango Lodge. We were very impressed by the high standard of cleanliness and the combination of rustic Alpine-like decor and modern equipment. Every effort was made to ensure we had a comfortable and enjoyable stay. The secluded area at the rear of the lodge, with comfy seating and a beautiful outlook over neighbouring fields, was a great place to relax. The chickens, ducks, turkey and two cats seemed relaxed too! Just a few steps across from Mango Lodge on the site is The Greenhouse, equipped with an intimate bar, coffee machine, toaster and microwave - we enjoyed drinks and a chat with our hosts there. A short walk through the lanes leads to The Farmhouse Hotel, where we sampled great food, with a specially arranged discount, and a free swim in the pool. In short, lovely accommodation, generous hospitality and a unique setting make this a place we hope to return to before too long!
Perfect time in Guernsey!
I visited Guernsey with my partner in April. A good time to travel. Not too hot, not too cold. The island is very interesting and varied. Rugged cliffs along the coast, old military buildings, great beaches and much more. It should be emphasized that the island is not overrun with tourists. Very pleasant. Our holiday was rounded off by the great accommodation "Kimberleys Cottage Guernsey". Favorable starting point for activities and good parking facilities. I would also like to highlight the modern accommodation. Everything is clean and comfortable. The operators Kim and Klaus are super friendly and accommodating. Tips for activities and travel destinations are of course included in the service. We would love to come back and enjoy the peace and nature on the insider tip island of Guernsey.
Toller Aufenthalt in Kimberleys Cottage Guernsey
Wir sind total begeistert. Die Gastgeber sind super freundlich und haben eine tolle Atmosphäre geschaffen, für einen wunschlosen Aufenthalt in Kimberleys Cottage. Die Unterkunft ist sauber und zeichnet sich insbesondere durch ihre komfortable, moderne Ausstattung aus. Genau so wünscht man sich das. Die Insel ist zudem absolut sehenswert. Von wundervollen Strandabschnitten, romantischen Wanderungen entlang der Küstenpfade bis hin zu historischen Ereignissen, hat die Insel viel zu bieten. Wir freuen uns auf den nächsten Aufenthalt bei Kim und Klaus in Kimberleys Cottage Guernsey.
Great stay at Kimberleys Cottage Guernsey
We are totally excited. The hosts are super friendly and have created a great atmosphere for a perfect stay at Kimberleys Cottage. The accommodation is clean and is particularly characterized by its comfortable, modern facilities. That's exactly what you want. The island is also absolutely worth seeing. From beautiful stretches of beach, romantic walks along the coastal paths to historical events, the island has so much to offer. We look forward to staying with Kim and Klaus at Kimberley's Cottage Guernsey.
Welcoming, friendly, wonderful accommodation.
We had a fabulous stay at Kimberley's cottage Guernsey. The accommodation was first class, immaculately clean and extremely comfortable. The hosts Kim & Klause were very friendly and the hospitality was excellent. We are global travellers and this was our first visit to Guernsey. We will be returning. We would definitely recommend this accommodation and location.
List Your Property
Do you have a Cool Place to stay you'd like us to know about?
List my place
Other Cool Places near Kimberley's Cottage Guernsey
i
Holidays in St Peter Port
Holidays in Guernsey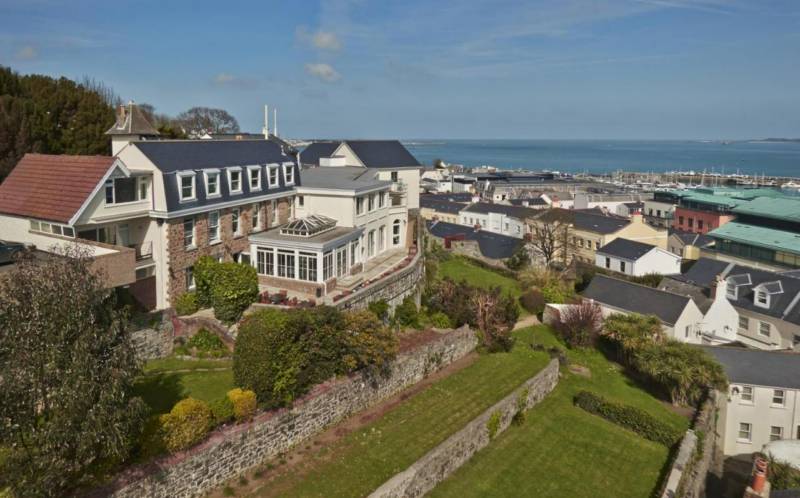 i
Holidays in St Peter Port
Holidays in Guernsey