Snowdonia Shepherds' Huts
(1 at Snowdonia Glamping Holidays)
Secluded hillside glamping in Snowdonia's Conwy Valley, with exclusive use of two self-contained luxury shepherds' huts.
Privacy ensured, with guests given sole use of both luxury 'living' and 'wash' huts
Unwind in the authentic wood-burning sauna
Additional 'shepherds' hut tent' available for little glampers
The Owner Says
Our cosy shepherds' huts are designed to make the most of their superb location. Listen to the stream as you lie in bed at night, catch the warmth of the morning sun as you enjoy your breakfast, watch our resident barn owl as he hunts over the meadowland and remember to look up at night - there's no light pollution here so the starry sky is breathtaking.
The "living" hut sleeps 2 & has a wood-burning stove for chillier nights, a pull-down double bed with luxury bed linen, Welsh blankets and a Welsh mountain sheepskin rug.
The other hut is your private wash hut where you'll find a toilet, shower, wash basin and wood-burning sauna so you can relax after fantastic days out exploring Snowdonia.
You'll also have a fully equipped outdoor kitchen under a canopy with a triple gas burner, a coolbox and a fire pit.
If you want to bring the family, you can add our unique shepherd's hut tent to make space for 2 children. 
What you won't have is a mobile signal, internet access, TV or even radio.  No traffic, no loud music from your neighbours - unless you count birdsong and baa-ing!  Just peace, tranquility and the sounds of nature.
Virtual Tour
About Snowdonia Glamping Holidays
Suitable For
We're so lucky to live in a really beautiful little valley just above the thriving village of Betws-y-Coed.  It's so peaceful here - I love sitting on the deck and enjoying the sounds of birdsong and baa-ing - the soundtrack to our days.
Nearby
Snowdonia National Park is famous the world over for its awe-inspiring mountains, breathtaking scenery, stunning lakes, rivers and waterfalls.  It's a natural playground for any lover of the outdoors and we now have a range of new attractions to add a new edge of excitement to any visit here.
ZipWorld have brought us the world's fastest zip wire, trampolining in the trees &now the only Alpine Coaster Ride in the UK, just down the road; Go-Below Underground Adventures are almost our neighbours & will look after you as you descend the world's longest underground zip wire in the world on the UK's scariest assault course!  If you prefer staying above ground but don't mind getting wet you can always surf in the mountains at Surf Snowdonia, the UK's only inland surf lagoon. 
Food & Drink
Betws-y-Coed is a buzzing little village in the summer months with many places to eat and drink. Caffi Caban-y-Pair is a current favourite - their pizzas are superb.  There's another pizzeria in the village with a great outdoor seating area - Hangin' Pizzeria.  Owned by the same people as the nearby Alpine Coffee Shop which is superb for lunch - the owners have a strict "Palm Oil Free" policy. There's Welsh tapas in Olif, whilst the choices for pub fayre and pints are abundant. For other great take aways, look no further than the friendliest chippy Tir a Mor and our local Indian restaurant, the Asha Balti House.
Extras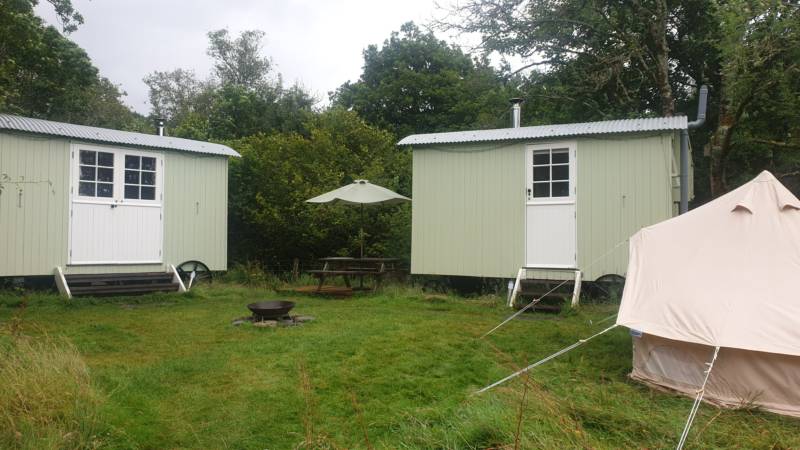 3 metre bell tent
This lovely bell tent is available for up to 2 young glampers which we put up for you next to the huts so you can bring the kids along too! The price includes super soft and warm bedding & towels and complementary marshmallows.
Site Reviews
Add Your Review
Rated ★★★★★ over 5 reviews
An idyllic getaway
Thank you to both Hazel and Richard for being such warm and accommodating hosts. Our stay in their barn was a wonderful and relaxing getaway, situated in a beautiful location ideal for exploring the surrounding area. With plenty of walks and towns so close by you'll have a hard time deciding what to see each day. The barn itself is stunning, the hosts have done an incredible job of attending to every little detail. The bed was large and incredibly comfortable, the bathroom has both a large shower and bath tub, we especially loved the indoor fireplace. This is the ideal getaway and we can't wait to pay them a visit again soon!
what a treat!
We were meant to go away to celebrate being together 20 years. We cancelled a trip to Toulouse last summer and this week to Pembrokeshire due to consecutive lockdowns. We didn't want to give up: we just wanted time together and after all we live in a very beautiful part of the world: Snowdonia. We've just spent 3 wonderful days 5 miles away from home 🙂 in a beautiful converted barn, exquisitely designed and conceived by the owners. This was such a treat! Rarely have I stayed in a place of such standing; everything from the furniture to the mugs, has been chosen so tastefully and it doesn't stop there. The main room is cleverly designed to feel spacious and light while incredibly cosy and open on the outside. The whole new experience taking glamping to a whole new level! All we could hear were bird songs and the stream nearby. No light pollution at night and incredible views from the deck and a short walk away through the gate and up the hill. So if like us you've had to cancel plans, REMEMBER YOU CAN TRAVEL AND VISIT LOCAL! You not only experience your locality in a new way, discover new places and support your local businesses and today we all know how much this is needed. Thank you Hazel Barclay for your welcome. This was exactly what we needed and I am still on a high!
The perfect break
Had the most blissful, peaceful, and enjoyable few days in one of the fabulous Glamping barns. Absolutely everything has been thought of, so that even in miserable weather in late September, we felt perfectly cosy and snug. The fireplace is heavenly, and the huge bath was the perfect thing to return to after climbing Snowdon. Hazel and Richard are so generous and kind, and were really the cherry on top of our visit. Not to mention, how safe they made us feel during covid - we were definitely safer and more remote than at home! Can't recommend this place enough, we'll definitely be back!
Glamping perfection
Absolutely loved our stay in the huts - can't recommend them highly enough! Everything has been thought about to make for a relaxing, comfortable experience. We appreciated all the little touches - hot chocolate, logs and firelighters, a massive beanbag for comfortable star-gazing, fairy lights in the camp kitchen. We enjoyed starry evenings with a campfire, cooking in the kitchen under the trees, falling asleep listening to the stream... sheer bliss! The sauna is a genius touch and a fabulous treat after a day walking in the hills. On the one day when the Welsh weather kicked in, the living hut was toasty warm from the woodburner and a perfect place to paint and play cards. Really wonderful - we'll be back!
Response from Snowdonia Glamping Holidays
Thank you Abigail - we're so glad you enjoyed your stay and we'll look forward to seeing you again.  Best wishes, Hazel
Relaxing, Friendly, Perfect!
This place is perfect for a get away, nice and peaceful with very helpful and friendly hosts. We had a mix up with our booking (my mistake) and Richard solved it with no complaints. The converted barns are really well designed with luxurious extras like under floor heating and a fire place in the centre of the room. Looking forward to going back next year!
Response from Snowdonia Glamping Holidays
Thank you Lewis - we're so pleased you enjoyed your stay and look forward to seeing you again!
Location
Snowdonia Glamping Holidays is located at Plas yn Rhos, Rhydlanfair, Betws-y-Coed, Conwy LL24 0SS
Getting There
Follow the A5 south out of Betws-y-Coed, turn left at the sign for Nebo and Capel Garmon, then right at the sign for Snowdonia Glamping Barns/Shepherds' Huts. Cross over the cattle grid and carry on along the farm track up the hill until you reach the house at the end.