Shell Island
Llanbedr, Merioneth, Gwynedd LL45 2PJ







Remote, island-style camping with a big bang of beach for your buck.
Shell Island is truly a camping phenomenon. The whole place has been preserved in a wild and relatively undeveloped state and lucky campers can choose to pitch wherever they want over a whole 330 of its 460 acres. It's not, strictly speaking, an island at all. However, its remoteness helps to retain an islandy sort of feel despite the huge sand dunes that now link it to the mainland. The beauty of Shell Island is that it's a remote, self-contained camping community, cut off from the rest of the world save for a two-mile causeway. Admittedly, the arrivals area can be a bit of a shock at peak times. You may find a seething mass of humanity spilling out from the reception, pub, shops and café, but once you're through the barrier, the site opens up before you against a backdrop of clear blue seas, and it's down to you to find your own special slice of peninsula paradise. Nowhere else in Wales gives you such freedom to camp wherever you like. But, the simple, golden rule promoted by the Shell Island team is not to pitch within 20 metres of another tent. 

Read the full Cool Camping review here.
Gallery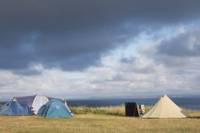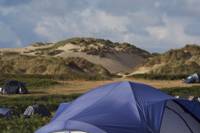 The local area
Three miles north of Llanbedr is the town of Harlech, whose principal feature is a precariously perched castle, but whose narrow, winding streets are also worth exploring. The views of Cardigan Bay and the Snowdonia mountains make this town a great place to get your regional bearings; and once you have those, it would be rude not to go for at least a quick stroll somewhere in Snowdonia National Park. For traditional British seaside resort attractions, head south along the coast to Barmouth, some 7 miles south of Shell Island causeway.
Best local places to eat and drink
For top-notch BBQ food, including delicious minted Welsh spring lamb kebabs, head to Dylan Richards Family Butcher, also in Llanbedr, located just over the causeway. The onsite bar can get brash and noisy. For something more subdued, the Victoria Inn (01341 241213) is fashioned out of Welsh stone, has a steadfastly traditional interior and pretty beer garden. Bar food is served daily. It's almost opposite the entrance to the causeway back on the mainland.
Why stay with us?
The huge sand dunes and expansive beach are all you really need for daytime entertainment; campfires will provide the evening fun. During high season there is often some organised entertainment of the disco/karaoke variety back at the restaurant, but it's no contest for the draw of the campfire. Supermarket, camping/beach shop, snack bar/restaurant, free hot showers, laundry, cheesy evening entertainment. For top-notch BBQ food, including delicious minted Welsh spring lamb kebabs, head to Dylan Richards Family Butcher, in Llanbedr village, just over the causeway.
Other places to stay near Shell Island