Tom's Field
Godshill Pottery, The Ridge, Fordingbridge, Hampshire New Forest SP6 2LN










Sometimes you just can't fight your destiny; this is the campsite formerly known as farmland where the owners caved in to campers constant requests and now, for 28 days a year, this field gets to fulfil its wonderful campsite potential
Just minutes from the M27, the motorway gives way to moorland, drivers reduce speed in homage to the grazing gardeners of the New Forest – the wild ponies – and time slows down in step with the traffic. Cue deep exhalation of city congestion and, ventilated by heather-perfumed air, one remarkably swift passage into the wilderness.
Such accessibility from the conurbations of southern England earns the location big accolades. Still, don't expect to hurry through William the Conqueror's former hunting ground; wild horses may have dragged you here, but they're unlikely to budge from the road till they've had their fill.
Tom Charman's grandmother bequeathed her family the pottery and farmhouse adjoining the field. For years, campers would turn up requesting a pitch, encouraging Tom and his cousins to run an honesty site: a sign at the gate would welcome arrivals and contributions were collected each morning.
Tom's Field now has 50-odd plots, managed by Tom and his wife Tina. Numbered pitches run parallel to the road, opposite another line of tents that overlook the moors. Here, parents sit outside their ever-expanding canvas constructions looking almost stunned by the sudden onset of relaxation. At the far end, beside a clutch of woody pitches, is The Copse, a favourite with couples.
You can walk for miles on the moors and explore villages by bike or on horseback. At night, campers laze around, barbecuing food. 'Or the more adventurous,' laughs Tina, 'make the half-a-mile pilgrimage to the pub'.
Gallery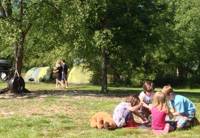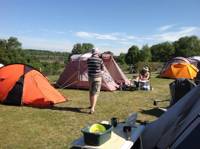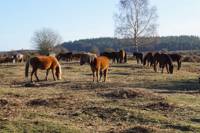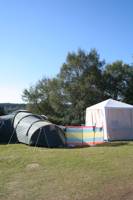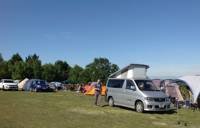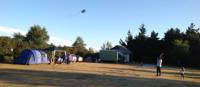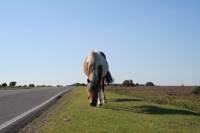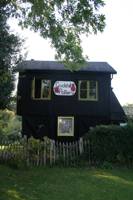 The Owner Says
Tom's Field commands a stunning location close to the village of Godshill, 3 miles from the town of Fordingbridge and is open for weekends throughout the summer months. Godshill is a quiet village on the fringes of the New Forest  where ponies, donkey's and cattle all wander freely. We boast direct access and fantastic views. Footpaths and cycle routes are literally on our door step. With just over 50 pitches the main field offers large perimeter pitches for families and small groups. Our copse area is exclusively for couples which offer smaller pitches and a quieter retreat. We are a small quiet campsite and therefore have a no music policy at all times and request that there is no noise after 11.30pm. We can only take individual bookings on line. Please call for advice if you are a small group.
Best local places to eat and drink
Visit The Cider Pantry (01425 402193) to sample and buy locally brewed cider or apple juice made ye-olde-worlde way. The Fighting Cocks (01425 652462) is a hop and a skip away with outdoor seating and piled-high plates of usual to unusual pub fare, such as New Forest faggots and mash and spicy New Orleans jambalaya.
Why stay with us?
There's shower block (male and female), washing up sinks and a mobile shop. Woodgreen Community Shop visits every morning with freshly-baked croissants and lots more. Firepits for hire and wood, kindling and charcoal are available to buy at reception. There is a freezer for ice packs or you can leave a deposit and borrow some.