Llanddinog Old Farm House & Cottages
Llanddinog Old Farmhouse Solva SA62 6NA
A safe friendly homely environment where you can relax and chill out during your holiday in Pembrokeshire
Within (healthy) walking distance of Solva, Middle Mill & St.Davids, Llanddinog Old Farmhouse & Cottages consists of an old farmhouse and three cottages. Big private gardens and never ending farmland around the property make it the perfect retreat for those who enjoy their own space and the sound of....nothing but nature. Just what we wanted from our holiday.
Gallery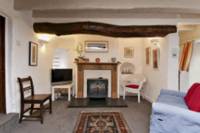 The Owner Says
We have four excellent 4 Star Rated self catering properties at Llanddinog , which is a hamlet just 3 miles from Solva in the heart of the St David's peninsular. 
Great for family gatherings or group bookings there are 21 beds in all. The Old Farmhouse sleeps 8 (3D + 1T) and can be joined to the Stable which sleeps 3 in a family bedroom, The Tackroom (1D, 1T, 1S)  and Granary (2D +1S) cottages both sleep 5 and all the houses are only yards from each other. The Farmhouse has a great BBQ area for sunny day eating and there is plenty of parking for all the guests. 

With over 1.5 acres of lawns, safe play space is at a premium for children and adults alike. 
The local area
Llanddinog is a haven of rural peace and makes an ideal base from which to explore this stunning part of  Wales - with several Blue flag beaches, Castles and Cathedrals, Coast Paths and Hills, City and Town, Woollen Mills and Potteries, sunsets to enjoy, meals to be eaten - the area has something for everyone. 

Reported to be Wales's prettiest coastal village, Solva has galleries, shops, cafes and pubs as well as the harbour. Local fish can be bought, sailing lessons taken or  just enjoy an excellent coffee and snack at the 'Cafe on the Quay'.
A 6 mile drive will get you to St David's, Britain's smallest City where you can find everything you need for your stay in Pembrokeshire.
There are several Blue Flag Surfing and Swimming beaches within a short drive and activity centres focus on Newgale and Whitesands beaches.
The stunning and famous Wales/Pembrokeshire Coast path is a must, whether a short section or a challenging hike, the nipper buses will deliver or collect you from  set pick up points at your start or destination, and they run for most of the year.
Best local places to eat and drink
Cafes, Pubs, Hotels and Restaurants are in abundance and there is a range to suit all tastes and pockets within a 10 mile radius.

Reviews
Add Your Review
Holiday Returns
We had a great stay over the summer - the farmhouse has loads of character and is really well equipped. I especially loved the spacious kitchen ! We were comfortable and just felt so rested after our stay in such relaxing surroundings. It was so lovely waking up in the mornings and looking out at the beautiful garden and countryside. Although there are other cottages nearby we had plenty of private garden space and a great outside eating area. Good area for biking and dog walking! Close to beautiful beaches and plenty to do in St Davids and Solva on a rainy day. We had such a great time and liked it so much we had to come back for Christmas !