Lunsford Farm
Lunsford Farm, Pett Road, Pett, East Sussex TN35 4HH




Jaw-aching views, and only a ten-minute stroll from the beach.
Part of the hugely successful Feather Down Farms concept, Lunsford Farm is camping for those who like their creature comforts – rustic decor and outdoor living but with comfy bedding and all mod cons thrown in including a hob, wood burner and coffee grinder. Feather Down takes pride in the details, making sure you always get a jaw-dropping view, the eggs are always ready to be collected from the chicken coop; and fresh bacon and milk is only a larder trip away. This leaves you more time to concentrate on enjoying yourself and making the most of your surroundings. You don't need a tent, as they come pre-erected, fully furnished and look somewhat close to a rural pop up palace. Feather Down use redundant land from farmers, build the tents, and then let the (more authentic) farmers look after you.
Staying at Lunsford Farm with its Romney ewes and mix-bred suckler cows really educates you and improves your knowledge of farming. Further exploration of the farm reveals some historic farm buildings, as well as several ponds. It's charming, and also only a ten-minute stroll from the beach. In the unlikely event that you tire of the jaw-aching views, the farm also makes an ideal base for a visit to the nearby cobbled streets of the ancient town of Rye, the seven miles of beach at Camber Sands, and the town of Winchelsea, with its variety of tours. There's also Hastings for a taste of the traditional British seaside holiday and your pick of of eclectic gift shops.
Gallery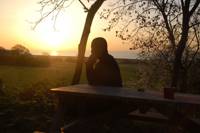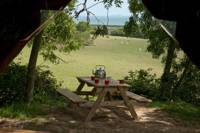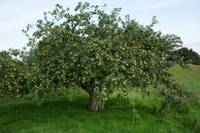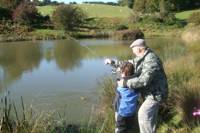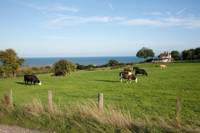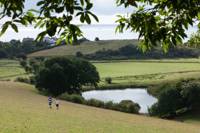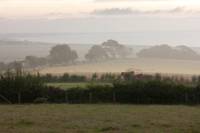 Our favourite spot
Dogs – No. Big groups, single-sex groups – by arrangement only, please call 01420 80804 to discuss your requirements.

The local area
There are plenty of walking trails and activities within minutes of the site – Andrew has a great wealth of local knowledge and will be happy to point you in the right direction. A good starting point is the Pannel Valley Nature Reserve (adjacent to the farm) which has three public bird hides.
15 minutes west of the farm is the medieval town of Rye. Wander down the cobbled streets around Mermaid Street, leisurely stopping off at cafes and antique shops along the way. It's a tranquil place, so adrenalin-seeking campers should head to Camber Sands; its seven-mile stretch of sandy beach attracts the windsurfing and kitesurfing community.

20 minutes to the east is Battle, which took its name from the 1066 battle. You can explore the atmospheric abbey ruins and stand on the very spot where King Harold is said to have died.
Best local places to eat and drink
There's a well-stocked honesty shop onsite, selling a variety of free-range meats, bread, local ice-cream and fresh eggs. You can also order a BBQ box to be delivered to your tent upon arrival. If venturing off site, the village is home to two local pubs, which are just a short walk/bike ride away and serve great food: The Royal Oak (01424 812515) and the Two Sawyers (01424 812 255).
Winchelsea Farm Kitchen is the flagship shop of Winchelsea Farm Foods; a fabulous food and wine emporium located in the heart of Winchelsea. Find quality meats, cheeses, pâtés, terrines, plus English and continental wines. It's a true food-lovers paradise.
Nearby hastings has grown more cosmopolitan over recent years, and is now home to a vibrant selection of eateries: Bullet (01424 717477) is a relaxed (vegetarian-friendly) cafe, Di Polas (01424 203666) dishes up some of the best ice cream in the area and Black Market (01424 421276) satisfies big appetites with its inventive menu of gourmet burgers.
Why stay with us?
The huge, luxury safari tents are very well equipped with a double bed, two bunk beds, a cupboard bed, a proper toilet, a wood-fire stove, cold running water and a dining area. Make no mistake - these are at the upper end of the glamping scale. Outside, there's a bench and table, and barbecues near the tent. You'll be provided with fire lighters, kindling, and logs upon arrival. Additional logs are free. A new shower block has been built in one of the original farm buildings. It holds two toilets and three showers (with underfloor heating – bliss), and can be found at the entrance of the farm.