Tyllwyd
Cwmystwyth, Aberystwyth, Ceredigion SY23 4AG











Mine all mine...
Camping next to a major mine working may not sound like the most appealing idea, but pitch your tent at Tyllwyd Campsite at Cwmystwyth (what a lovely name!) in the heart of the Cambrian Mountains and you'll be in for a very pleasant surprise. The campsite lies just a short distance from what is considered to be the most important non-ferrous metal mining site in Wales, where humans have scratched away to extract lead, silver and zinc since the Bronze Age. The remains here date back to the eighteenth century, when mining activity here was at its height; James Raw, the current owner of Tyllwyd Farm and the eponymous campsite, is descended from folk who came here from the lead mining region of the Yorkshire Dales to run the Cwmystwyth mines in Victorian times.  (Spare a thought for the miners – most of them were dead of lead poisoning after a few years working here).  The spoil heaps and tumbledown buildings don't detract from the glorious landscapes of high, rolling hills and moors and tumbling, clear rivers. Indeed it's as far removed from the frenetic activity of a working mine as you can get and makes a perfect place to get away from it all. Whether it's chilling out on the banks of the River Ytwyth, which runs beside the site as it wends its way to the coast (at Aberystwyth of course), poking around amongst the mine workings, or hiking and mountain biking in the surrounding hills, this is the Cambrian Mountain range at its best.
Gallery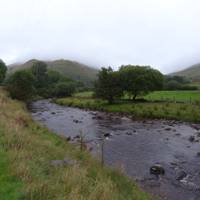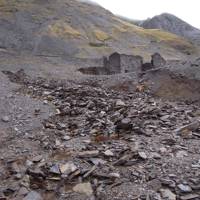 Our favourite spot
Tents, campervans, tourers, hikers, mountain bikers, dogs – yes.  Big groups, party animals – no.

Best local places to eat and drink
The Hafod Hotel (01970 890232) at Devil's Bridge, 6 miles away, is a lively and attractive pub. New owners have transformed it into the village hub with a tea room and restaurant as well as the pub.
Why stay with us?
Simple but immaculate separate male and female washrooms with hot and cold water, flushing loos, 1 hot shower. Small children's play area and sandpit plus paddling in the river. Ice packs frozen. There are some onsite farm walks with printed maps available to borrow from reception, providing a range of walks from a short stroll before supper to a whole day spent wandering or pedalling over the farm's 3000 acres and mountains. Open fires not allowed but bbq facilities available alongside picnic tables. Watch out for the midges!
Things to see & do nearby
Other places to stay near Tyllwyd
i
Glamping in Powys
Glamping in Mid Wales
Glamping in Wales
i
Holidays in Powys
Holidays in Mid Wales
Holidays in Wales