Alde Garden
The White Horse Inn, Low Road, Sweffling, Suffolk, IP17 2BB






Fabulous glamping site perfect for people who don't really like putting up tents.
This fabulous  glamping and camping site just outside Saxmundham is perfect for people who don't really like putting up tents, with a couple of yurts, bell tents and even a gypsy caravan. There are pitches available too if you you're more hardcore, or, if you're not, a small cottage which you can rent by the week for. They have also teamed up with the excellent Suffolk Providore to bring you all the fresh produce you need, whether you're cooking on the campfire or in the cottage's farmhouse kitchen. One in a million, and always with a warm welcome.
Gallery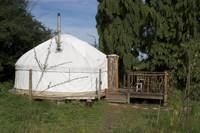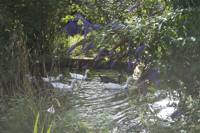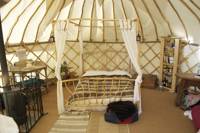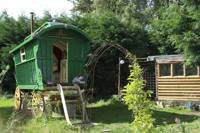 The Owner Says
PUB: The pub onsite is open 4 nights a week - Friday, Saturday, Sunday, Monday, 7-11pm. A traditional real ale pub serving locally made ales straight from the cask as well as a selection of local bottled ales, spirits, fairtrade organic wines and a few other speciality spirits. Soft drinks and seasonal drinks also available. Also serving a selection of very tasty locally made pies or snacks. Another pub, just half a mile (10 mins walk across a meadow) away serves full evening meals.
AWARDS: We won two awards at the 2011 Suffolk Tourism Awards: Sustainable Tourism & Best Campsite. At the 2011 Greenest County Awards we were awarded Best Pub, Club or Hotel, and in the 2013 awards we were given the award for Water Management. We were also finalists in the EADT 2013 Busienss Awards in their Environment & Sustainability category.
BUSHCRAFT FIRELIGHTING at ALDE GARDEN Various dates throughout the summer – Learn how to light a fire without matches! Primitive firelighting is one of the most satisfying and inspirational bushcraft skills to learn. This training session, taking you back as far as primitive bow drill technique (rubbing two sticks together), brings you closer to nature and our ancestral past.The session leader will demonstrate various methods of firelighting without the use of matches or a lighter, including firesteel, flint & finishing with the use of a bow drill. You'll also be taught how to find the best natural kindling & there will be plenty of opportunity for audience participation. Cost: donations in the hat!
Our favourite spot
Tents – yes. Campervans, caravans, dogs, groups – no.
The local area
Framlingham Castle (01728 724189; see English Heritage) is an astonishingly fine yet little known 12th-century fortress with frequent child-friendly events. The coastal gems of Dunwich, Southwold, and Aldeburgh are within striking distance, as is the world-famous bird reserve at Minsmere (see RSPB) with nature trails, hides, and visitor centre. More birdwatching, as well as walks along the Alde Estuary and boat trips are all to be had at Snape Maltings (01728 688303), whose concert hall is the home of the Aldeburgh Festival (01728 687110) co-founded by Benjamin Britten and held every June.
Best local places to eat and drink
Alde Garden's on-site pub, the White Horse (White Horse), is open 4 nights (Fri, Sat, Sun & Mon) plus Sunday lunchtimes, so you're never more than stumbling distance away from a refreshing drink. They have an excellent (and ever-changing) selection of real ales and a small collection of organic fairtrade wines and carefully chosen speciality spirits. Otherwise, there's a pleasant 8-and-a-bit-minute walk through a meadow to another White Horse (01728 663497) at Rendham – there's a third White Horse close by too, nobody knows quite why – where you can get a decent bite to eat and sup some locally brewed Earl Soham ale. The extensive Friday Street Farm Shop (01728 602783) at Farnham sells its own home-grown fruit and vegetables and doubles as a café.
Why stay with us?
There's a communal campfire near the bottom of the field and 5 small bring-your-own-tent pitches scattered around the side of the field in cosy nooks and crannies beneath or behind trees. The loos, in buildings attached to the house, are very clean (2W, 1M, plus a compost loo), and you can choose between a conventional shower (1W, 1M) and the jungle shower under the trees (definitely worth a go – it's surprising how warm the sun can make the water). Kids love the numerous chickens and ducks that wander about the site, while a diablo and a poi are available for any minors who live in hope of running away to join the circus some day. A room is given over to a freezer, a fridge, a washing machine, and microwave. There's also a covered kitchen/dining area with gas cookers, straw-bale seats, cutlery, crockery, pots, pans, tea, and coffee. A mobile shop stops at the campsite on Fridays from noon to 2pm, but there's no shop in Sweffling itself. There is some occasional traffic noise from the road that runs past the site.
Reviews
Add Your Review
Warm, welcoming and wonderfully relaxing home from home
What an amazing home from home this place is. We walked in to find a lovely wood burner crackling away and creating a warm and welcoming glow. There is everything you would ever need at home which means you only have to bring clothes and a book. Our 3 night stay was just what we needed to get away from everything and having the pub within walking distance is great. Will recommend this place to everyone!