West Lexham
West Lexham Norfolk PE32 2QN













A beautiful old complex of farm buildings set around woods and a lake that feels cut off from the world.
It doesn't get much more rural than this 21-acre Breckland estate, which has been developed by festival entrepreneur and sometime garden designer and horticulturalist Edmund Colville and his team as a 'creative social enterprise' to great effect. A collection of farm buildings set among woods in the heart of the village, it's basically a magically situated camp-and glampsite and complex of holiday cottages. But the vision goes much further than this: they run courses and workshops in all sorts of topics – everything from cookery and yoga to 'permaculture design' and 'the art of collaborative leadership'. But the great thing is you don't have to buy into all this to get something out of West Lexham: the camping fields are wonderfully private, and you can be as separate as you want from the main body of the complex; and there are 4 rather lovely and beautifully constructed tree temples and tree houses in the woods; one with two bedrooms, a living dining area, mezzanine and large deck. There's a small lake and couple of rowing boats – and a swimming pool up by the main house, which is still a private home and available for use to renters of the cottages. Above all, it's a wonderful spot for old-fashioned holidays with the kids, an idyllic place that has the feel still of somewhere 'discovered' – hard to get to, but even harder to leave.
Gallery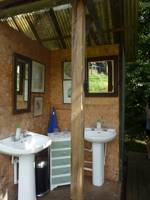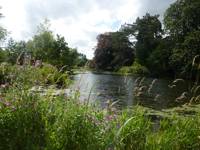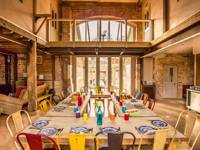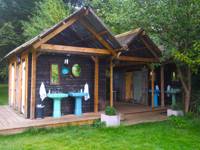 The Owner Says
West Lexham is listed in 'The best holiday Treehouses in the UK' by the Guardian and Listed as one of the '50 best nights under canvas' by the Independent.
We have built using traditional skills and eco building techniques using natural or reclaimed materials. We have hand made furniture and have filled everywhere with as much artistic flair as possible.
We provide the perfect rural space for team building days, corporate events, yoga retreats, meetings, trainings and team building events.We only offer a handful of handmade boutique outdoor weddings each year so we can take the time and space to make them perfect. We cater for festival weddings. barn weddings, outdoor weddings and woodland weddings.
Places to eat & drink nearby
Things to see & do nearby
Other places to stay near West Lexham